Japan seeks to cut spending on US military bases – report
Published time: 12 Oct, 2015 12:27
Edited time: 12 Oct, 2015 15:11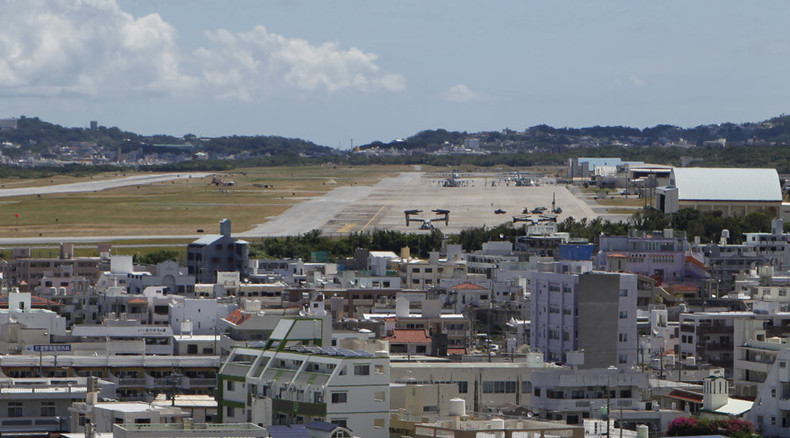 Japan could be on a collision course with the US as Tokyo reportedly wants to cut the money it spends on American bases in the country. Washington may be reluctant to accept the cutbacks, as it would have to fork over millions of dollars per year.
Tokyo wants to reduce its spending on the upkeep of US bases so this money can be used to help expand the country's Self-Defense Forces, informed sources told The Japan Times. Japan reportedly wants to increase its defense of a group of remote islands in the southwest of the country.
The government had allocated 191.2 billion yen ($1.5 billion) for its 2015 budget to cover such spending. However, it wants to reduce this figure for 2016.
A joint pact between Japan and the US sees Tokyo review the amount it spends on the upkeep of the bases every five years. The current agreement is due to come up for renewal in March 2016.
However, the US is unlikely to welcome the proposed move, as it would have to spend millions of dollars per year to cover the shortfall.
The news comes as Okinawa Governor Takeshi Onaga will officially revoke permission given by his predecessor for work to start on a key US base in the prefecture, a senior government official announced Sunday, as cited by Kyodo.
This will center on refusing to allow landfill work to take place, which is crucial for building work to commence.
"We will take all possible measures to block base construction in Henoko, and this is the first step," Onaga, a long-term critic of US military bases, said at a news conference on September 14.
Tokyo wants to shut the current US Marine Corps Air Station Futenma in Ginowan city and open a new one in Henoko in the center of the southern Japanese island.
The previous Okinawa governor, Hirokazu Nakaima, gave the green light for the relocation of the base in 2013. However, when Onaga won the elections in 2014, he promised to oppose the plan – to the delight of the majority of locals.
There has been tension for years between the local population and the presence of US servicemen. This dates back to a notorious crime committed in 1995 when three US marines kidnapped and raped a 12-year-old schoolgirl.
There have also been less-publicized sex crime cases involving underage victims reported in 2001 and 2005, the fatal running over of a female high school student by a drunken US marine in 1998, and other incidents.
Okinawa, home to about 1 percent of Japan's population, hosts nearly half of the 47,000 US troops based in Japan.
LISTEN MORE: