Australian anti-Muslim protesters rally against mosque construction (PHOTOS, VIDEO)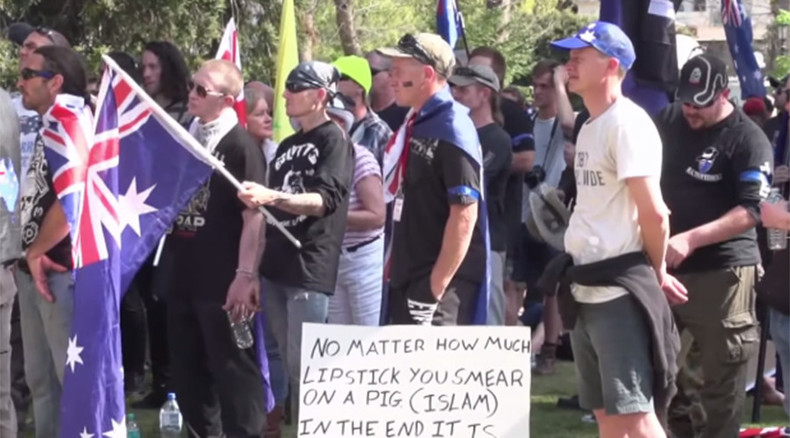 Australian nationalists have rallied against the construction of a mosque in the south Australian city of Bendigo. The anti-Islam demonstration was outnumbered by anti-racist counter-protesters slamming intolerance and islamophobia.
"Aussie, Aussie. Aussie, Oi Oi Oi!" and "No mosque!" about 200 anti-Muslim activists from the United Patriots Front (UPF) shouted.
The protesters sang the Australian national anthem, waved Australian flags, and held banners condemning Islam.
Blair Cottrell, one of the leaders of the UPF, gave a speech to the protesters where he criticized the "global agenda" for flooding Australia with "third world immigrants."
"…They [the media] need to lie about our numbers, they need to lie about our strength and spirit, and you can expect those same lies again, but I'd like to see them try this time," he told the rally, adding that the aim of the protest is to protect the Australian identity.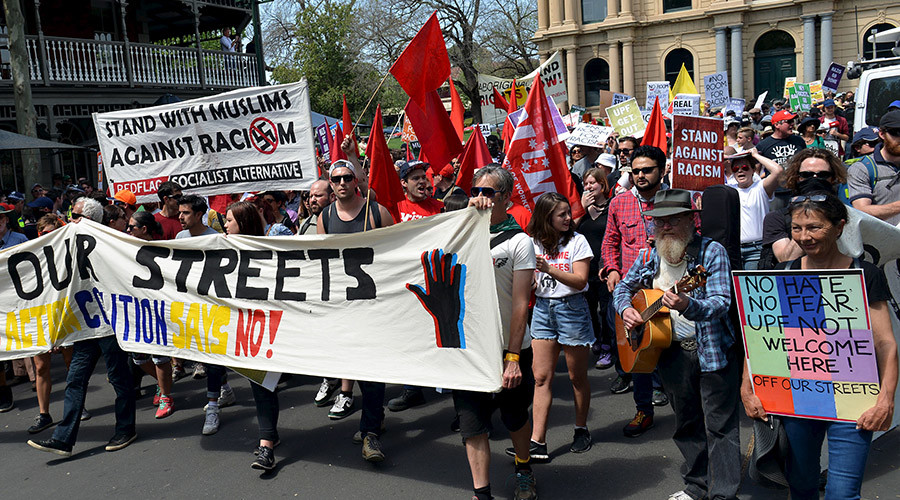 "I think building a mosque in Bendigo is going to destroy the cohesion of this community, it's going to create social division and there is no benefit to the people of Bendigo or anyone else for a mosque to be built in a place like this," a protester told RT's Ruptly video news agency.
Meanwhile, up to 500 pro-diversity activists demonstrated under the banner of the Bendigo Action Coalition.
"They [UPF activists] are hardened fascists and what they are coming to Bendigo to do is to try and build their fascist movement," Jerome Small, spokesman for the Campaign Against Racism and Fascism, said, as cited by 9 News.
"These fascists, racist bigots, will not march uncontested in our streets," another multicultural activist declared, addressing the crowd.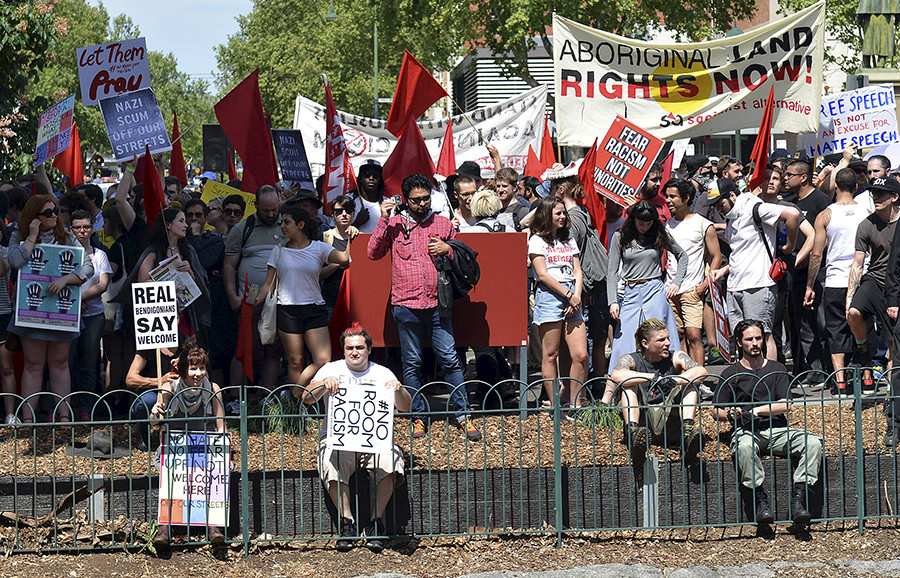 Lisa Chesters, the federal Member for Bendigo, pointed out that many of the participants in the anti-Islam protest were not from Bendigo.
"I'm asking people not to judge Bendigo, because the people who are running these rallies are not from our town," she told ABC News.
About 420 police officers kept order, preventing the rival activists from clashing with each other. Four protesters were arrested: two for carrying knives, one for having a flare, and another for a minor assault.
"We're very happy with the outcome of today, we've had approximately 600 protesters up in our beautiful city, there's been minimal disruption to our residents," Victoria Police Superintendent Mick West said, as cited by ABC News.
This is the second double protest in Bendigo. The first one was held in August when hundreds of protesters filled the city's streets. Local authorities allowed construction of the city's first mosque in mid-2014, provoking a mass outcry.