Indian man beheads wife, walks down street with her head in his hand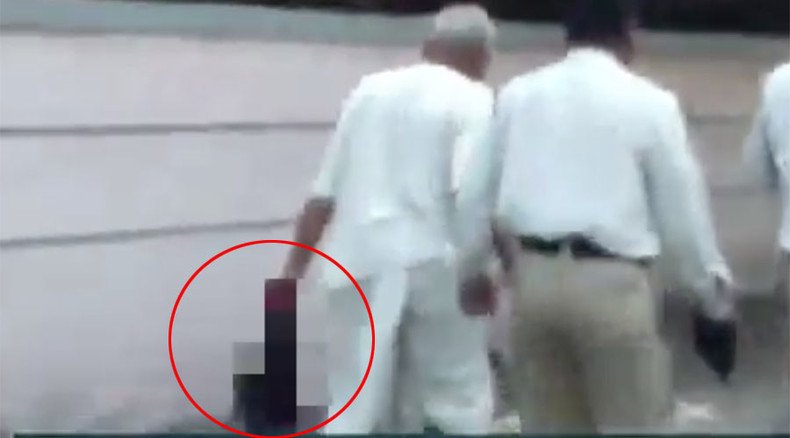 Man casually walking along the street with a woman's blood-stained head in one hand and an axe in the other sounds like stuff out of a horror movie... but it's what locals saw in an Indian city on Friday.
Passers-by in the streets of an Indian city were shocked to see a man walking with the chopped-off head of his wife in his hand. In the other hand he was holding the axe he allegedly used to behead his spouse.
The suspect was identified as Ramchandra Sheu Chavan, 53, who has been working as a watchman for nearly 20 years in the city of Pune, Maharashtra state, police told the Indian Express.
Ramchandra allegedly suspected his wife, Sonabai Ramchandra Chavan, 45, of having an affair with his son-in-law. According to neighbours' reports, the man repeatedly quarreled with the victim.
READ MORE: Saudi employer reportedly chops off Indian maid's hand after she asked for pay
The fatal incident took place on Friday morning. Ramchandra once again had a row with his wife, locked his daughter-in-law and two grandsons in the house, and then violently attacked Sonabai.
Apparently he chopped her head off with an axe, police said, adding that then he started walking along the street. A local resident who saw him walking down the street with his wife's head in his hand eventually called the police, who arrested the suspect.
Ramchandra is currently in custody and is being questioned by police.
"The man did not have any mental disorders as investigated for now. He is taken into custody for murder and is being questioned further," Senior Police Inspector M. Chavhan told Indian media.
You can share this story on social media: