Russia, US work on agreement to coordinate air operations in Syria – Moscow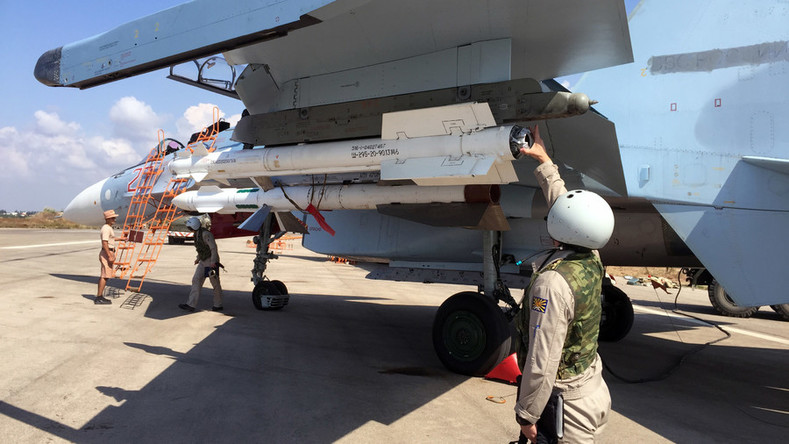 The Russian Defense Ministry and the Pentagon are working on an agreement to coordinate military flights in Syria, according to Russia's Defense Ministry. 
READ MORE: Russian jets hit 12 ISIS targets in Syria, cause panic among extremists – Defense Ministry
"The Russian Defense Ministry has responded to the Pentagon's request and promptly considered the American proposal on coordination of actions in the framework of the fight against the terror group ISIS," Defense Ministry spokesman Igor Konashenkov said, as quoted by TASS.

He added that "in general, these proposals could be accepted for implementation."
The General Staff "in principle" supports the agreement proposed by US colleagues, Russian Deputy Defense Minister Anatoly Antonov said on Tuesday.
"Unfortunately, the US is reducing our coordination only to its technical aspects – that is between our pilots during their missions," he said, following a meeting with Defense press attachés from several countries including the US.
Antonov said that a video conference between the US and Russian defense ministries had taken place on October 1 to discuss the "safe use of air forces" in Syria. A second is planned for the next few days.
"But it would be better if our colleagues came to us and we discussed all the problems eye to eye here, at the Defense Ministry headquarters," Antonov said, adding that he hopes that during the second conference the Pentagon will comment on Russia's proposals.
On Friday, US president Barack Obama said the US would not cooperate with Russia in Syria as its actions are allegedly designed to "prop up" Assad. He added, however, that the US is not going "to make Syria into a proxy war between the United States and Russia."
Cooperation with President Assad remains one of the main stumbling blocks between Russia and the US. However, as geopolitical analyst Eric Draitser has told RT, Washington's reluctance to collaborate with Assad "makes their strategy against ISIS absolutely untenable."
READ MORE:'Any air campaign in Syria needs to involve ground troops and Assad'
"The US has learned, unfortunately, through many examples of trial and error in various wars that it has waged, that terrorism and terrorists' tactics such as these are almost impossible for traditional military that has overwhelming air power, but is unwilling to engage on the ground. We saw it in Iraq, we saw it in Afghanistan," Draitser said, adding that, while this is not "unexpected," it does point to an important aspect of "the failure" of Western policy. "When they say they are not willing to collaborate with Assad, it makes the strategy against ISIS absolutely untenable and impossible."
Moscow launched its military operation against Islamic State (IS, formerly ISIS/ISIL) and other terrorist groups at the request of the Syrian government on September 30 and has already targeted a number of IS infrastructure units, hitting command centers, ammunition depots and explosive production sites, among others military facilities.
LISTEN MORE:
READ MORE: From Day 1 of Russian anti-ISIS op in Syria MSM launched anti-Moscow information campaign - FM