5 people arrested in Sydney terror-related raids – police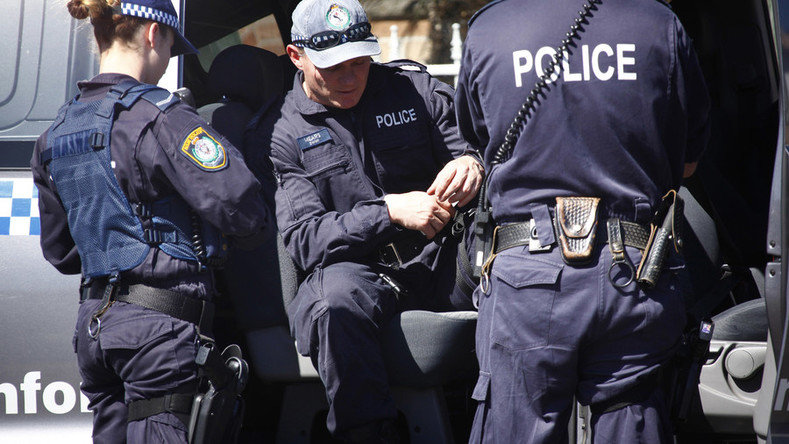 Australian police have arrested five young people in terror-related raids following the murder of police veteran Curtis Cheng last week. A 15-year-old gunman carried out the attack that has been described as politically motivated and linked to terrorism.
Five arrests have been carried out at homes in Merrylands, Guildford, Wentworthville and Marsfield.
All those arrested are between 16 and 24 years old.
"Those arrested include a 16-year-old male and an 18-year-old man from Wentworthville; a 22-year-old man and a 24-year-old man from Merrylands; and, a 22-year-old man from Marsfield," NSW police said in a statement.
Those arrested have been taken to various police stations where they will be interrogated about Friday's fatal shooting of a police officer, the police said.
Police in the area are on high alert due to the possibility of retaliatory attacks, NSW Deputy Police Commissioner Nick Kaldas said earlier.
Police now confirm 5 people arrested. 200 officers involved in the raids across Sydney.

— Mathew Woolfrey (@mattywoolfrey) October 6, 2015
The raids – a coordinated operation involving the counterterrorism and homicide squads – were launched after 6 am local time on Wednesday.
It involved more than 200 armed NSW officers, as well as Australian Federal Police units.
Prior to the recent arrests, police also detained a teenager who had reportedly posted a video on Facebook showing Police Commissioner Andrew Scipione breifing the public about the shooting. The caption read "merryland [sic] police station is next hope they all burn in hell," ABC reported.
The action comes in the wake of a fatal shooting outside the NSW Police's Parramatta headquarters, according to reports.
On Friday, 15-year-old Farhad Jabar Khalil Mohammad shot and killed 17-year police force veteran and accountant Curtis Cheng at close range outside the NSW Police headquarters in Parramatta.
It is being assumed that the teen was not acting alone when he lethally opened fire in Charles Street.
Police suspects that the teenage gunman was politically motivated and link his attack to terrorism.
"I find it incredible to think that a 15-year-old boy could undertake this action without any form of help or assistance or encouragement," Premier Mike Baird has also said.
It is believed that Farhad's sister could have been lured into joining jihad and she is now suspected of having traveled to Turkey and may be trying to reach Iraq or Syria.