39 Palestinians injured in clashes with IDF in Ramallah – reports (VIDEO)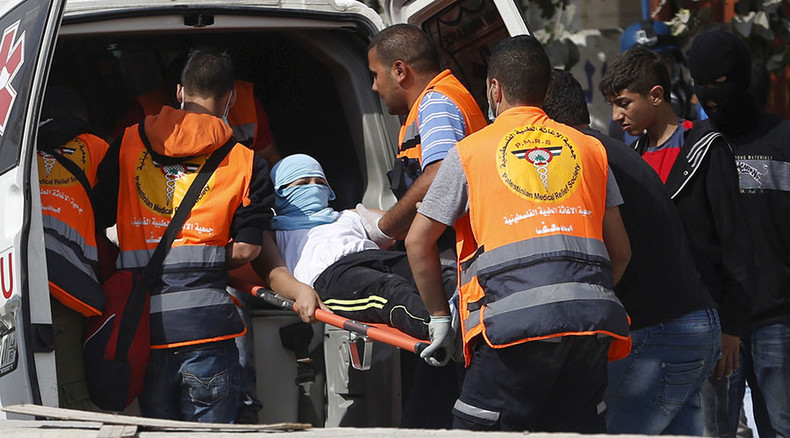 Ramallah has seen some violent clashes with the IDF confronting crowds of stone-throwing Palestinian youths with tear gas and rubber bullets. 39 Palestinians have been injured in the clashes, according to local media.
A standoff between Palestinians and the Israeli army turned violent at Qalandiya military checkpoint, with 25 Palestinians injured, five of them by live fire and 10 by rubber-coated steel bullets, said the Palestinian Red Crescent, cited by Ma'an news agency.
Palestinian youths were reported to throw rocks, bottles and Molotov cocktails at the soldiers.
During nighttime clashes at Beit El checkpoint, eight Palestinians were reportedly injured with rubber-coated steel bullets, while at Atara checkpoint, also not far from the West Bank city of Ramallah, two Palestinian teenagers were hit by shrapnel.
The Red Crescent Society has accused the Israeli military forces of shooting directly at an ambulance near Beit El.
Fifty four injured Palestinians were on Tuesday accepted into hospitals from all over the West Bank following clashes with the Israeli army, the Ministry of Health said, according to Aqsa TV Channel's website. Many of those injured were reported to have been suffering the effects of tear gas inhalation.
The president of the Palestinian Authority, Mahmoud Abbas, said Tuesday he was making efforts at curbing the escalation of violence.
"We tell them [the Israelis] that we do not want either military or security escalation," Abbas said at a meeting of the Palestine Liberation Organization, as cited by Reuters. "All our instructions to our [security] agencies, our factions and our youth have been that we do not want escalation."
Tensions have been particularly high in East Jerusalem and the occupied West Bank since Saturday, when two people were killed and two others injured in a stabbing attack in Jerusalem's Old City.
Access for Palestinians to the Old City was then restricted for two days in a rare move.
Three Palestinian teenagers, including a 13-year-old Palestinian boy, were killed in West Bank clashes with Israeli soldiers on Monday. At least 499 Palestinians were injured in clashes with the IDF in between Saturday and Monday, the Palestinian Red Crescent reported.
READ MORE: 3 Palestinian youths killed by Israeli forces in 24 hours

Late Tuesday, clashes erupted in the port city of Jaffa between police and Israeli Arab protesters who were supporting the Palestinian side in the recent escalations, The Jerusalem Post reported. Three officers were injured and two protesters were arrested during the unsanctioned protest, as people started hurling stones.
LISTEN MORE: