ISIS-affiliated Boko Haram claims responsibility for Nigeria's deadly suicide bombings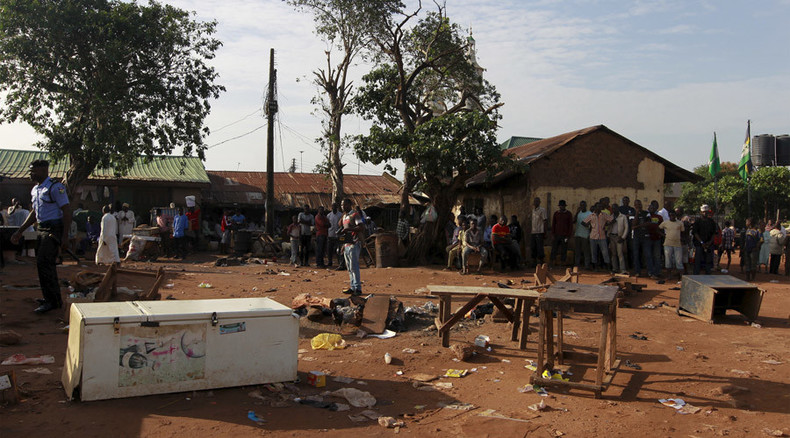 Nigeria's Boko Haram militants, who have pledged allegiance to the Islamic State, have claimed responsibility for a series of suicide bombings near the Nigerian capital that killed 18 people and left dozens wounded last week.
The terrorist group released a statement on Twitter on Sunday along with three photos of suicide attackers involved in Friday's deadly blasts. The first two attacks happened in Kuje township, where a suicide bomber attacked a police station while another bomb was detonated at a nearby market. The third device exploded in Nyanya at a bus stop.
According to the latest death toll, 18 people lost their lives, while 41 others were injured, according to Abuja Zonal, the Coordinator of the National Emergency Management Agency.
READ MORE: Partners in jihad: ISIS welcomes Boko Haram's allegiance
The blasts in the Federal Capital Territory happened in an area where more than 3,000 persons displaced by Boko Haram are currently living. Police sources told local papers on Sunday that the most likely option was that the attacks had been conducted by fighters hiding among the displaced persons living around the capital.
"The bombings could not have been carried out by terrorists from outside Abuja, but by insurgents who have been hiding in the FCT, particularly among the IDPs," a source told Nigeria's Punch publication. "The police are focusing on the displaced persons because they believe some of them could be Boko Haram sympathizers, who are working for the sect."
President Muhammadu Buhari who visited the victims on Sunday said that he will continue to fight terrorism. Meanwhile, Nigeria's armed forces on Sunday once again vowed to eradicate terrorism in the country by December.
"Our will cannot be broken; evil will never triumph over good," Buhari wrote on twitter. "We will be rid of this evil stalking our land."
United Nations Secretary-General Ban Ki-moon condemned the bomb attacks in a statement saying that the "continuing violence by Boko Haram is an affront to international law, to humanity and to religious faith."
At least 17,000 people have been killed and more than 2.5 million made homeless since the Boko Haram insurgency began in 2009. In March this year, Boko Haram pledged its loyalty to Islamic State militants and their caliphate stretched across Iraq and Syria. The Nigerian extremist group seeks to establish an Islamic state on the African continent and has intensified its incursions into neighboring Cameroon, Chad and Niger.