Thousands protest in Moldova over $1bn bank fraud (VIDEO)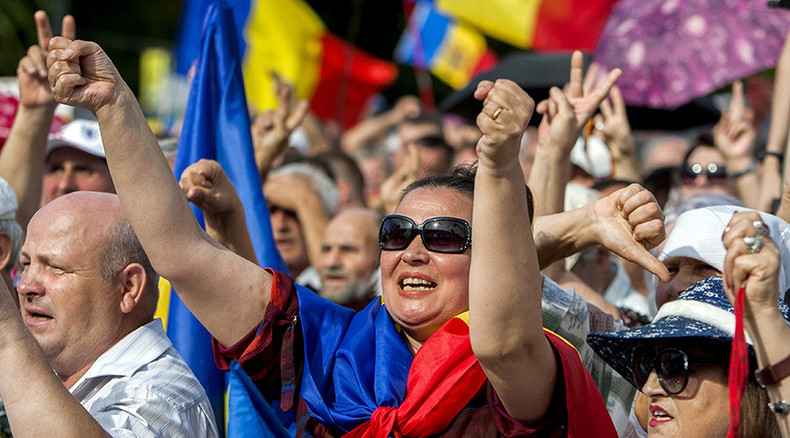 Thousands of people have rallied in the capital of Moldova, calling for a probe into the disappearance of up to $1.5 billion from three national banks last year. The protest follows weeks of anti-government rallies.
READ MORE: Tens of thousands protest in Moldova demanding govt resignation, early elections (PHOTOS, VIDEO)
Up to 20,000 people participated in a huge protest in Moldova's capital, Chisinau, during the fifth consecutive week of anti-government protests, Reuters reported on Sunday. According to AP, some 10,000 people took part in the rally.
Scuffles with police reportedly broke out when protesters attempted to reach the country's parliament, which was tightly-guarded by the police.
Demonstrators were demanding early elections, to be held no later than March 2016, and the resignation of the country's pro-EU President Nicolae Timofti, the prime minister, as well as other top governmental officials. People were carrying European Union flags and chanting "Victory! Early elections!"
The disappearance of over $1 billion from three national banks in a last year's fraud, has led to the weakening of the local currency, the leu, and a rise in prices in Moldova. In September, the central bank chief had to resign: Moldova is one of the poorest countries in Europe, and the money which disappeared into offshore accounts meant that $1bn totaled nearly one eighth of gross domestic output, and was later partially compensated with support from the International Monetary Fund and the World Bank.
READ MORE: 'Today everything changes': Huge protest in Moldova demands new government, president, constitution
"From tomorrow, we will declare acts of civil disobedience," Vasile Nastase, a leader of the Justice and Truth (DA, or Demnitate si Adevar) non-governmental organization, which organized Sunday's protest, said, according to Reuters. "We will block this government."
On Saturday, the capital's main street was blocked by about 250 tents, erected near the Parliament building. The sit-in protest was organized by two parties – the socialists and Our Party – who took the tents down on Sunday. They also supported the opposition's idea of top officials resigning, but acted in favor of stronger sovereignty and cooperation with Russia.
In September, Chisinau saw three massive Sunday demonstrations, organized by the pro-European DA. Estimates of the number of participants varied from 15,000 to 40,000 people, according to RIA-Novosti.