Tens of thousands protest in Moldova demanding govt resignation, early elections (PHOTOS,VIDEO)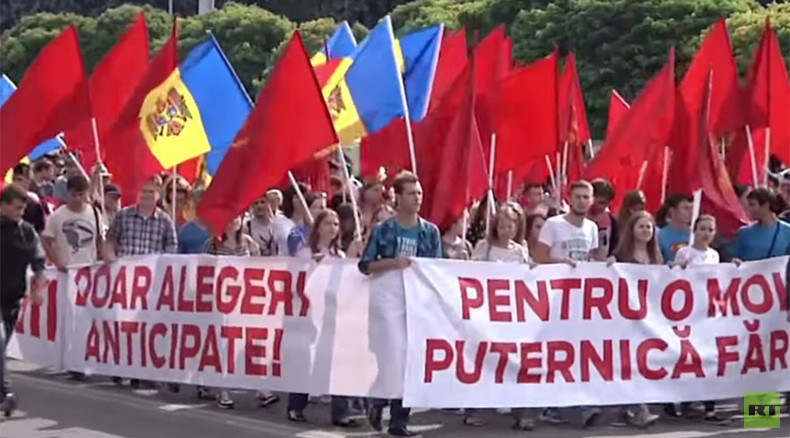 Tens of thousands of protesters have flooded the streets of Moldova's capital, Chisinau, demanding the president and current government resign and early elections be held. The demonstrators have threatened to continue protests until their demands are met.
From 30,000 to 50,000 people gathered on the streets of Moldova's capital on Sunday for the demonstration, according to the organizers, RIA Novosti reported. The protesters waved Moldovan flags and chanted "Victory!""Moldova!" and "Down with the thieves!"
The protest was organized by two opposition parties – the Party of Socialists headed by Igor Dodon and Our Party led by Renato Usaty.
The demonstrators called on the government of Prime Minister Valeriu Streletby and leaders of a number of state institutions, including the heads of the central bank, attorney general's office, and the country's anti-corruption commission, to step down. They demanded that early parliamentary elections be held no later than March 2016.
The calls come after it was discovered that over $1.5 billion had disappeared from three Moldovan banks prior to the 2014 parliamentary elections. The bank fraud wiped out an estimated 1/8th of the country's GDP.
On Sunday evening the demonstrators announced that they plan to continue their protests if their demands are not met.
Headed by Dodon and Usaty, protesters rallied in front of the president's residence located outside of Chisinau to deliver a letter demanding that he resign within a week.
The protesters have set up two tent camps, including one with about 200-250 tents set up in front of the Parliament building, Dodon told Russian TV channel Rossiya-24. He said the opposition movement is growing larger, adding that on Sunday about 100 more tents had been set up at the other camp.
"I think the protests will continue until [we claim] victory," he said.
Participants of the rally are also calling for boosting cooperation with Russia and the Eurasian Union. Another protest organized by a pro-EU group called Dignity and Truth (Demnitate si adevar) has been ongoing for three weeks. Those protesters, who set up tent camps in the center of Moldova's capital, have been calling for the resignation of the government as well, and are also refusing to leave until their demands are met.
On September 21, Moldova's central bank governor, Dorin Dragutanu, resigned following protests earlier this month. On September 22, an International Monetary Fund (IMF) mission arrived in the financially struggling country to look at prospects for a new support program. Moldova is one of Europe's poorest countries, with average wages of about $200 a month.
You can share this story on social media: