Israeli teenager injured in 2nd stabbing attack in Jerusalem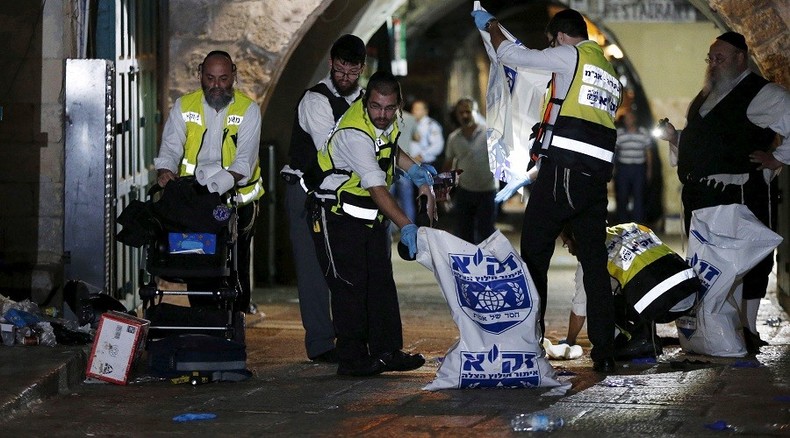 An Israeli teenager has been injured in a stabbing attack near Jerusalem's Old City – the second attack of its kind in a matter of hours. The assailant was shot and killed by police as he tried to flee the scene.
According to reports, a 15-year-old Israeli boy was seriously injured in a stabbing attack near Damascus Gate in Jerusalem early on Sunday.
READ MORE: 2 dead, 2 wounded, including 2-year-old, in Jerusalem stabbing attack
The victim received wounds to his chest and back, according to Haaretz, and was rushed to the Shaare Zedek Medical Center.
Witnesses said that the assailant attempted to flee the scene, but was confronted by police and shot dead.
Earlier on Saturday, two ultra-Orthodox Jewish men were stabbed to death in a similar attack near the Western Wall in Old Jerusalem. The attacker, identified as 19-year-old Muhannad Halabi from Al Bireh, also seriously injured a toddler and a woman, who remains hospitalized in a critical condition.
"The terrorist approached a group of Jews, whipped out a knife and began stabbing," police spokesman Micky Rosenfeld said. The Palestinian attacker grabbed a gun from one of the victims and opened fire on police and tourists, before being killed by an Israeli officer.
The Islamic Jihad has allegedly claimed that one of its militants carried out the attack.
"Mohannad Shafik Halabi, 19, is a member of Islamic Jihad," a senior member of the Palestinian extremist group told AFP on condition of anonymity, after the group issued a statement hailing the attack and saying it was in response to Israeli "terrorist crimes" against Palestinians.
Violence has risen in Jerusalem and West Bank in recent weeks. Israeli police and Palestinians have frequently clashed at East Jerusalem's al-Aqsa mosque compound. In response to the increase in violence, Israeli Prime Minister Benjamin Netanyahu authorized the use of live ammunition last month, if needed, to quell the unrest.