Terrorist training camp & command HQ annihilated in Russian MoD-released combat footage (VIDEO)
The Russian Ministry of Defense has released new combat footage showing the striking of terrorist targets in Syria, including an Islamic State command center and a training camp. The Air Force continues to engage hostile targets for the second day straight.
Follow RT's LIVE UPDATES on Russian anti-terror op in Syria
The Ministry announced that throughout the second day of the air campaign, Su-24M and Su-25 jets conducted eight flights from the Hmeimim base in Latakia province on the Mediterranean coast, targeting five Islamic State targets.
Based on intelligence gathered from a variety of sources, including "space and drone reconnaissance," the ministry confirmed the "total destruction" of terrorist targets in Idlib Province by Su-24 M jets. One of the targets was an Islamic State command post. The other was a terrorist training camp.
One of the videos released by the Defense Ministry shows Russian planes striking the training camp. According to the statement, the fighter jets managed to surgically strike an ammunition warehouse that led to further explosions and the elimination of the camp, as well as some "military hardware" being kept at the site.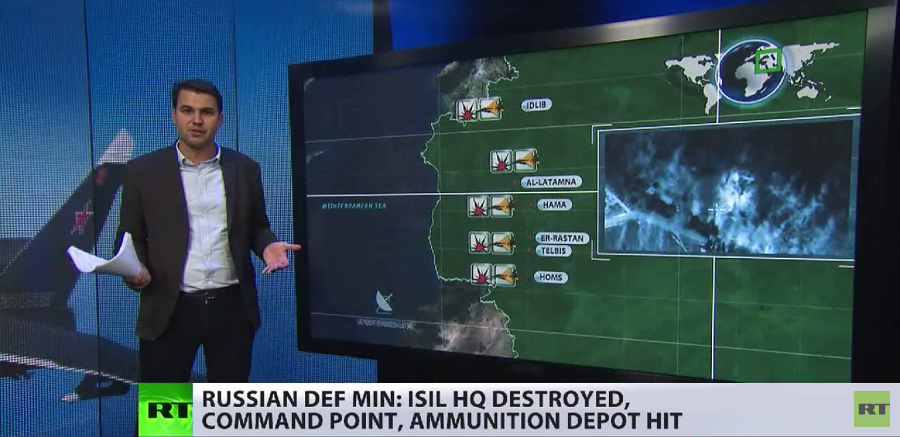 The ministry also reported that Russian pilots "prevented" the Islamic State fighters from restoring one of its command posts in Hama Province which had been struck by Russian jets on Wednesday.
READ MORE: 8 ISIS targets hit during 20 combat flights in Syria – Russian military
To stop further ISIS activity on the object near Al-Latamna village, Russian jets conducted an additional strike, which led to the destruction of the target. The ministry released footage of the operation, showing the strike carried out by the Su-24M fighter jet.
READ MORE: Combat cam footage shows Russian planes hitting ISIS targets
Earlier in the day, Russian military also released footage of the overnight air raids on four terrorist facilities, including an ammunition depot near Idlib, a three-level HQ near Hamah, and a reported car-bomb plant in the north of Homs.
The Russian command also announced that Su-34 bombers have also returned from their combat mission back to the Hmeimim airbase. The results of the combat mission, the ministry says, will be made available after processing new intelligence data.
You can share this story on social media: