GMO-free zone: Germany tells EU it bans genetically modified crops cultivation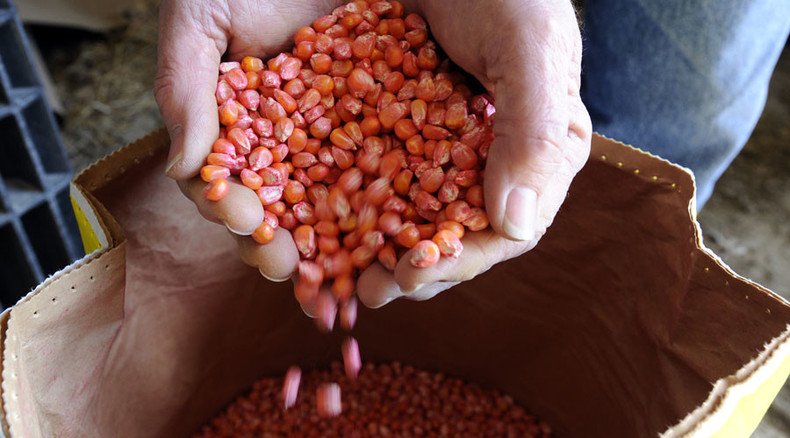 Germany has opted out of cultivating GMO crops on its territory, informing the EU Commission of the move and in the process joining Poland, France, Scotland and several other member states. The October 3 deadline for EU GMO decisions is looming.
The German Agriculture Ministry has notified the European Commission that the country will not allow the growth of GMO crops on its territory.
"The cultivation of genetically modified corn is incompatible with the use of arable land in Germany," Minister of Agriculture, Christian Schmidt wrote in a letter he submitted to the EU Commission, according to Die Zeit newspaper.
German agriculture officials have cited the possibility that GMO plants risk contaminating local crops.
READ MORE: No to GMO: Scotland to outlaw growing of GM crops
The decision would affect major GMO producers, including Monsanto, DuPont Pioneer and Dow Chemical – developers of herbicide-resistant maize – who have already submitted applications for the cultivation of genetically modified plants to the EC. These applications have already been "partially" approved by Brussels.
Germany has been joined by Poland, a country in which agriculture ministers have also made a decision to not permit new GMO crop cultivation on the country's fields. Poland was the latest country to do so, following Hungary, France, Greece, Latvia and Scotland, which already notified Brussels of their decisions.
The EU-approved "opt-out law" has allowed individual member states to restrict or prohibit imported genetically modified (GM) crops – even if they have been approved by the bloc as a whole.
Europe has divided opinions on GM crops, which are widely grown in the Americas and Asia. Monsanto's maize MON810, which is grown in Spain and Portugal, is the only GM crop currently present in the EU.
READ MORE: EU Commission proposes GM opt-out for member states

There are 58 GM crops approved for feed and food, according to the European Commission.
Around 60 percent of EU vegetable proteins for cattle come from soy and soymeal imported from countries where GM cultivation is prevalent.
In April, the European Union gave the green light for the importation of 10 new types of genetically modified crops for the first time since 2013. The crops, which include maize, soybeans, cotton and rapeseed would be authorized for human food and animal feed over the next 10 years, the European Commission announced then.
The opt-out law is set to significantly undermine work of, for example, DuPont Pioneer and Dow Chemical, who have been waiting for an EU executive permit for GMO cultivation in the bloc for nearly 15 years. Earlier in August, Monsanto criticized Latvia's and Greece's "opt out decisions" saying that they "contradict" science, but said that it would abide by requests.
According to the biotech giant, EU members' decision to opt-out also "undermines the scientific consensus on the safety of MON810."
"Nevertheless, we regret that some countries are deviating from a science-based approach to innovation in agriculture and have elected to prohibit the cultivation of a successful GM product on arbitrary political grounds," Monsanto's statement said at the time.
Under the new EU rules, other EU states have until October 3, 2015 to inform the EU Commission if they wish to opt out of new EU-wide GMO cultivation approvals.
You can share this story on social media: