Powerful blast damages Ukrainian Security Service HQ in Odessa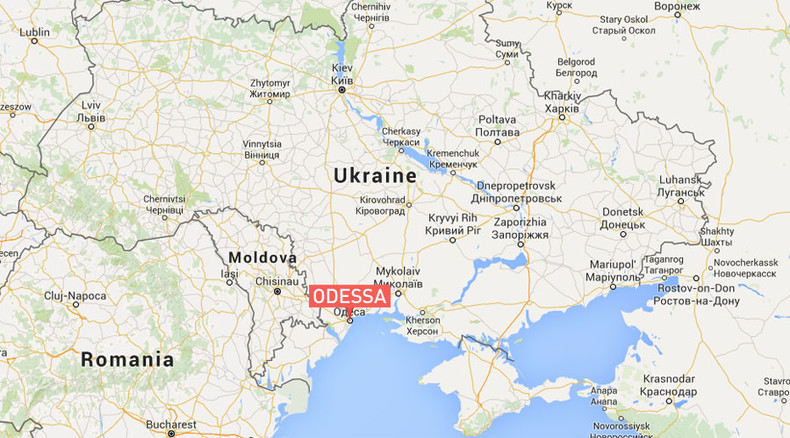 A loud blast has rocked the offices of the Ukrainian Security Service (SBU) in the southern city of Odessa. Police says the explosion was a terrorist attack.
The blast went off at around 4:45 a.m. local time (0145 GMT). Frightened residents took to social networks to report the blast, which they said woke them up and shook their homes. There have been reports that many windows in nearby buildings were shattered by the impact wave.
Photos posted online show a large hole in the SBU building's ground floor in place of a window and a wall.
Bomb technicians have estimated the power of the explosion as the equivalent of 5-6 kilograms of TNT.
Reportedly nobody has been killed in the incident, but so far there is no exact information about if anyone was injured in the blast.
The explosion has been described as an act of terrorism by police.
"A criminal investigation has been launched into the act, qualified by article 258 part 2 of Ukrainian Criminal Code as a terror act punishable with seven to 12 years in prison," Odessa police spokesman Andrey Kostyuk said.
While this is not the first nighttime blast in Odessa in recent months, it could be one of the most powerful.
The southern Ukrainian port city, in which 29 percent of the population is Russian, has seen tension and large anti-government protests since Western-backed protesters toppled President Viktor Yanukovich in a February 2014 coup. A few months later, radical Ukrainian ultranationalists clashed with anti-government demonstrators, destroyed their permanent camp at the Trade Union House and then set fire to a building in which dozens of the protesters were trapped.
READ MORE: Southern Ukraine: Blasts in Kherson, Odessa
The May 2 violence, which became known as the "Odessa massacre," resulted in 48 deaths. Some of the victims were strangled and beaten to death by the nationalist mob, while many died in the fire or from smoke inhalation. There have also been claims that toxic gas was involved in their deaths.
While protesters continue to demand that the new Ukrainian authorities bring the culprits to justice and investigate the blatant inaction of police during the tragedy, the probe into the incident has stalled and the opposition movement has largely been suppressed. Vigils for the victims have been held in Odessa under slogans such as "Odessa remembers."
READ MORE: Latest bomb blast in Ukraine's Odessa devastates pro-govt office
Moscow has been calling on the international community to put pressure on Ukraine, which the Russian government says has not taken any "tangible steps" to objectively investigate the mass murder.
While the investigation appears dead in the water, Ukrainian President Petro Poroshenko has appointed his famously anti-Russian university pal, ex-Georgian President Mikhail Saakashvili, as the governor of Odessa Region, in what he said was an initiative to battle corruption there.
READ MORE: Saakashvili's comeback? 30,000 sign petition to appoint Georgian ex-president as Ukrainian PM