Aussie anti-radicalization kit links alternative music, eco-activism to extremism
The Australian government's manual, aimed at preventing young people from radicalization, has caused a public outcry – it uses an environmental activist involved in the "alternative music scene" as an example of violent extremism.
The manual "Preventing violent extremism and radicalization in Australia" was launched by Michael Keenan, the Justice Minister and Minister assisting the Prime Minister on counter-terrorism. It is meant as help for teachers so that they can spot probable extremists-to-be among their students.
"We wanted to explain to teachers who are really on the frontline of this… to look out for certain signs that would lead them to be concerned about somebody, and if they are concerned about somebody moving down the dark path of radicalization, moving down the path of violence, then they'll know what they can do about it," Michael Keenan said, as cited by the ABC News.
He also added that the main risk group is young people who can be radicalized by Islamist groups such Islamic State (IS, formerly ISIL/ISIS) militants operating in Iraq and Syria and known for their aggressive recruitment techniques.
"When a person's beliefs move from being relatively conventional to being radical, and they want a drastic change in society, this is known as radicalization," the manual says.
Radicalization does not mean violent extremism automatically, but it is the first step to it. "If a person or group decides that fear, terror and violence are justified to achieve ideological, political or social change, and then acts on these beliefs, this is violent extremism," the brochure says.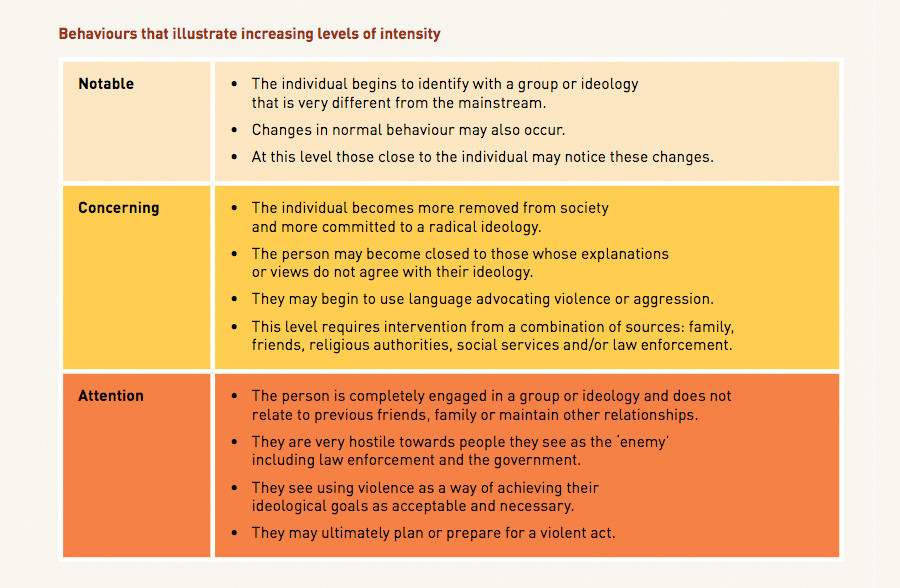 The transformation from a radicalized person to a violent extremist is illustrated in the manual with a number of cases. One of them is the case of an eco-activist Karen.
The case says that being a student at a university, Karen "became involved in the alternative music scene, student politics and left-wing activism" which was a "typical teenage rebellion." Once she attended an environment protest and became an eco-activist who lived in a forest camp which was designed to stop logging activities.
"There was no intent to harm people but inevitably fighting broke out between protesters and loggers… Karen was arrested on numerous occasions for trespass, damaging property, assault and obstructing police," the brochure says, showing how an eco-activist turned into a "violent extremist".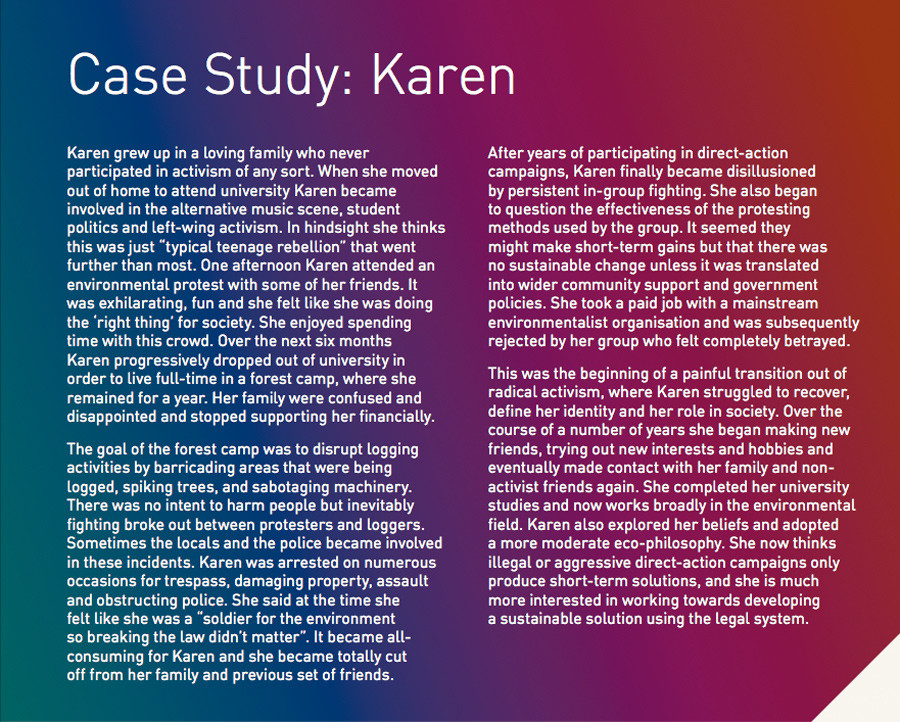 "This is very disappointing," Jonathan La Nauze from the Australian Conservation Foundation told the ABC News.
"To link standing up for the places that we love, standing up for the future of our children, to violence and extremism and terrorism, does nothing to combat a real threat to the safety of people," he said.
"The case of Karen" as a sample of violent extremism faced an uproar at Twitter where a campaign was launched with the hashtag #FreeKaren.
Gary Bouma, one of the experts quoted in the manual has distanced himself from the brochure. He said that his research was not designed to use at schools.
"It was meant for professionals who are leaders in communities, and to be used in training sessions to make people aware of the background of social and cultural factors that lead in very rare cases to radicalization," he said adding that people should learn how to use the manual and how not to abuse it, the Guardian reports.
Joanne Jacobs, a lecturer and commentator on communications issues, told RT that the manual was misused by the authorities. "It was really not designed to be used in a manner it has been used. It was supposed to be circulated among schools as advice how to deal with extremism," she said.
Jacobs also added that Karen is a real life person who is now a lawyer who engages in "civil disobedience in order to protest against environmental destructions." From her point of view, it is an example of a person who was not been radicalized.
"I think a lot of the commentators about this particular issue are arguing it has come from the politics of fear of the previous Prime Minister's [Tony Abbot's] government," Jacobs concluded.