This time for real: Putin calls Elton John, agrees personal meeting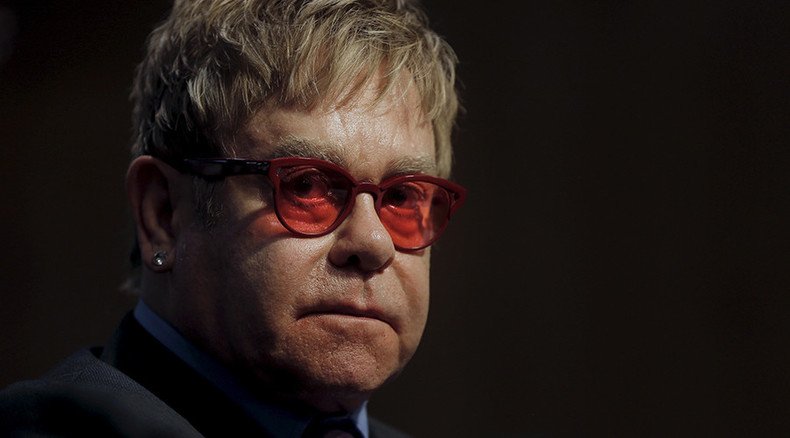 Vladimir Putin has phoned Sir Elton John and the two agreed a face-to-face meeting if their schedules allow it, the Kremlin press secretary said. Earlier, the British pop icon was played by pranksters, who called him pretending to be the Russian President.
"Just now, after the meeting, the President spoke with Elton John on the phone," Dmitry Peskov, Kremlin press secretary, said, adding that the call was initiated by Putin.
The Russian president was aware of the prank on Elton John and asked him "not to hold grudges" against those behind it, he added.
"Putin said that if their schedules match accordingly, he's ready to meet and discuss any issue which interests [the musician]," Peskov said.
LISTEN MORE:
According to the press secretary, it took some convincing from the Russian side for Elton John to believe it was really President Putin who wanted to talk to him.
"He (Elton John) was in doubt for a period of time" when Russia's ambassador to the UK, Aleksandr Yakovenko, contacted him to set up the call.
However, "the diplomatic skills of our ambassador" convinced the musician, who eventually had a conversation with Putin.
Elton John made headlines last week when he posted a photo of Vladimir Putin on his Instagram page and wrote: "Thank-you to President Vladimir Putin for reaching out and speaking via telephone with me today. I look forward to meeting with you face-to-face to discuss LGBT equality in Russia."
READ MORE: Elton John claims he spoke to Putin about gay rights, Kremlin denies it
In recent month, the legendary British signer was the face of a campaign encouraging Russia to drop the 2013 legislation that bans "propaganda of non-traditional sexual relations directed at minors," a law the singer dismissed as "stupid."
But the Kremlin was fast to deny Elton John's claims, with Peskov saying: "I don't know who Sir Elton talked with, but I can responsibly say that Vladimir Putin has not spoken to Sir Elton John."
READ MORE: When 2 good men speak: Elton John prank exposed (AUDIO)
It was later revealed that it were Russian pranksters, nicknamed Vovan and Lexus, who called the musician, not the President.
During the prank call, Elton John confessed his love to Russia, where he first performed back in 1979, and accepted "Putin's" invitation to meet in mid-November.

READ MORE: 'We gave Elton John what he wanted': Pranksters speak to RT about fake Putin call
"It was a surprise for him. And actually Elton was looking forward to the chat. So we gave him what he wanted, and he was not in any doubt," Vovan told RT in an exclusive interview.
You can share this story on social media: