UN Security Council would lose relevance without Russia's veto – Churkin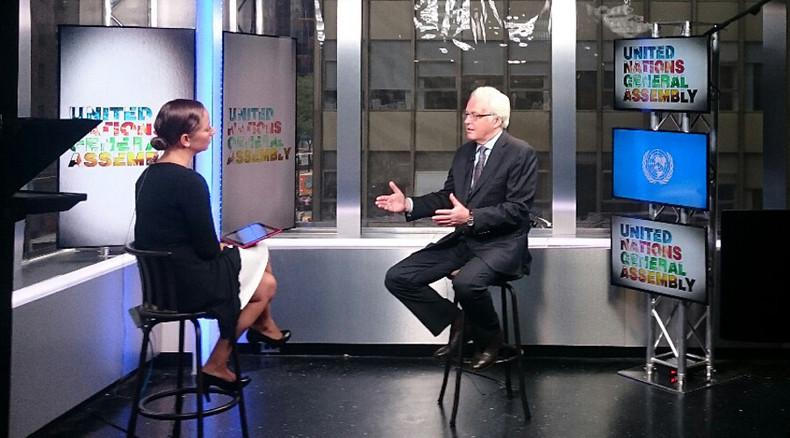 Without Russia's veto power, the United Nations Security Council would just be a rubber stamp for decisions made by the US and other Western powers, eliminating possibility for consensus on important international issues, Russia's UN envoy Vitaly Churkin told RT.
"It so happens that the political structure of the world is such that the US and its allies almost always have nine votes to adopt a resolution. And they almost always have seven votes to abstain and block a resolution… without a veto," Ambassador Churkin explained.
"The Security Council will lose its relevance" if Russia were not able to exercise its veto power, he stressed. If Russia had no veto power "the UN Security Council will simply be rubberstamping decisions, which would be made in Washington, Paris, London, Brussels, you know, in Western capitals. It will lose its relevance. It won't allow the UNSC to do the important work of bringing about consensus decisions," the envoy said.

Churkin spoke exclusively to RT's Anissa Naouai ahead of Vladimir Putin's arrival at the 70th session of the UN General Assembly in New York this weekend.
Putin-Obama meeting on Syria 'very important, no breakthroughs expected'
The Russian president will address international leaders from the UN tribune and is also expected to hold talks with US President Barack Obama on the sidelines of the assembly to discuss the Syrian crisis.

The ambassador stressed that the meeting between Putin and Obama will be "very important," but expressed muted optimism over their outcome.
"If they'll come closer on mutual understanding of various important issues, including Syria and the fight with ISIS, with terrorism – that would be an achievement. I personally don't expect any major breakthroughs, but I think that some steps forward must be made," he said.
Churkin also dismissed the hype raised in the Western media over the deployment of Russian weapons and equipment in Syria.

"There's nothing to accuse us of because we're acting with the agreement of the Syrian government. Clearly there are some Russian military, who are helping the Syrian military use the weapons that we've been supplying to them. There's no secret about that," he said.

The envoy stressed that the tactics of airstrikes against Islamic State (IS, formerly ISIS/ISIL) in Syria and Iraq by the US-led coalition have proven ineffective, adding that a "new form of international cooperation, more effective methods must be found" to deal with the jihadist threat.
"And I happen to believe that Putin's initiative shows some possibilities in this regard. And I hope it's going to be seriously discussed in the course of the [UN] General Assembly and later on. And that something would be brought about that would give us hope that the ISIS problem will be dealt with effectively," he said.

The Russian leader said earlier that geopolitical ambitions should be set aside, urging a coordinated international effort against Islamic State.
West's Libya bombing 'dirty episode,' undermined trust in UNSC
Churkin also defended Russia's decision not to veto the UN Security Council resolution on Libya back in 2011, which opened the door for Western airstrikes that have contributed to the current refugee crisis in Europe.

"I believe that under those circumstances our vote was correct. And the resolution was a good resolution… The problem was that it wasn't implemented properly," he said. "The first paragraph of that resolution was a call for an immediate cessation of hostilities."

The envoy said that using a UNSC resolution as a pretext for conducting a major bombing campaign was "a very bad mistake" by the West, as it has undercut trust in the UN Security Council.
READ MORE: 'Migrant crisis: Result of EU blindly joining US strategy' – ex Yugoslav FM

"It was really a kind of a dirty episode in the history of Security Council when promises were made and broken, when resolutions were written and then simply transgressed in major way," he said.

"It's one of the reasons that we weren't able to produce resolutions on the settlement of the situation in Syria that simply we weren't trusting that they [the US and its allies] were going to do what they'd be supposed to do under those resolutions, which were proposed," he added.
READ MORE: US branded Cameron 'incompetent' over Syria, felt 'f*cked over' on Libya – Lord Ashcroft
Churkin also touched upon the Ukrainian issue, saying that everybody at the UN is "pleased that the fighting has subsided" between the rebels and Kiev forces.

"It has been announced that on October 2 the Normandy format meeting of the presidents is going to take place in Paris, with the President of Russia, Chancellor of Germany, President of France and President of Ukraine [participating]. So, of course the hopes widespread here at the UN that it would produce results," he added.