Magnitude 6.5 quake hits off Chile, buildings shaking in Santiago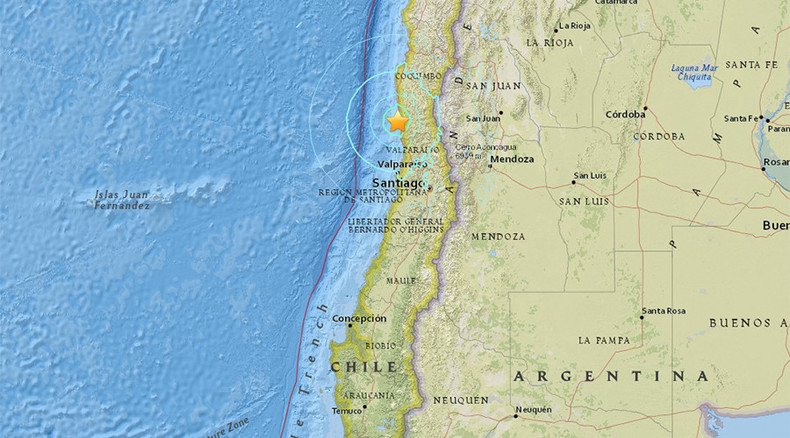 A 6.5 magnitude quake hit an area near Santiago, Chile on Monday, according to the US Geological Survey (USGS). The tremor reportedly shook buildings in the capital.
The earthquake occurred some 130 miles (210 kilometers) to the northwest of Santiago, USGS reported on Monday. The epicenter of the quake was at a depth of 15.3 miles (24.7 kilometers), USGS said.
The Chilean cities of La Ligua, Salamanca, and Illapel were the closest to the epicenter, with the latter being some 29 miles (46 kilometers) away.
Buildings were also shaken in Santiago, Reuters reported citing witnesses.
There have been no immediate reports of damage or injuries, and the quake did not generate the necessary conditions for creating a tsunami, Reuters reported, citing emergency services.
The quake is the latest tremor in a series of aftershocks that followed a massive earthquake in the same area last week. An 8.3 quake hit Chile at that time, which generated a destructive tsunami and killed at least 13 people.
READ MORE: Chile's 8.3 quake, evacuations, tsunami waves caught in dramatic videos
The quake was the sixth-strongest in Chile's recorded history and was felt thousands of kilometers from the center as far away as California.
You can share this story on social media: