Ceasefire between government forces & militants begins in 3 Syria battlegrounds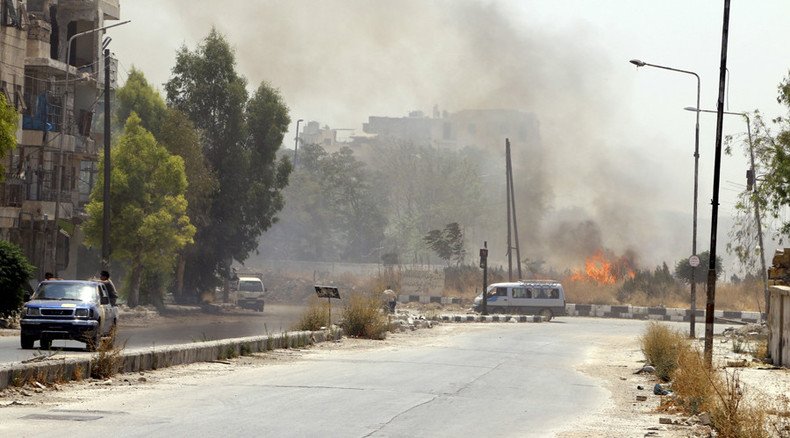 Syrian government military forces and Islamist militants have agreed a ceasefire for an undeclared period of time in three areas starting from midday on Sunday, according to a monitoring group and a city official.
READ MORE: Jihadists massacre 56 Syrian soldiers at captured air base
Two villages, Fuaa and Kafraya, in northwestern Idlib province, which are still controlled by the government, and a rebels' stronghold in the town of Zabadani at the Lebanese border are subject to a ceasefire beginning Sunday at noon, a member of the town council, told AFP.
The Syrian Observatory for Human Rights (SOHR), which also confirmed the information, said the length of the ceasefire hadn't been revealed, but negotiations to extend the truce will continue.
"There is calm in Fuaa, Kafraya and Zabadani. There is no shelling and there have been no violations of the ceasefire since noon (0900 GMT)," said Rami Abdel Rahman, head of the Syrian Observatory for Human Rights.

READ MORE: Russia may mull expedition to Syria if request lodged – Peskov
This is the third ceasefire attempt. Last month's two previous rounds of negotiations ended in stalemate.
The ceasefire comes in the wake of Friday's deadly attacks by Sunni Muslim militants on the Shiite villages of Fuaa and Kafraya. At least nine car bombs exploded on the outskirts of the settlements, with suicide bombers detonating seven of them. The villages have been besieged by an alliance of militants since July, including Al-Qaeda.
Rebels have accused the army of shelling the town of Madaya near Zabadani, which they believe was carried out in retaliation for an offensive on the Shiite villages, Reuters reports.
According to the Observatory, at least 66 militants, 40 soldiers and seven civilians have been killed in the violent clashes in Idlib province since Friday.
You can share this story on social media: