Another drowned child refugee? Reports of 4yo Syrian girl found dead on Turkey beach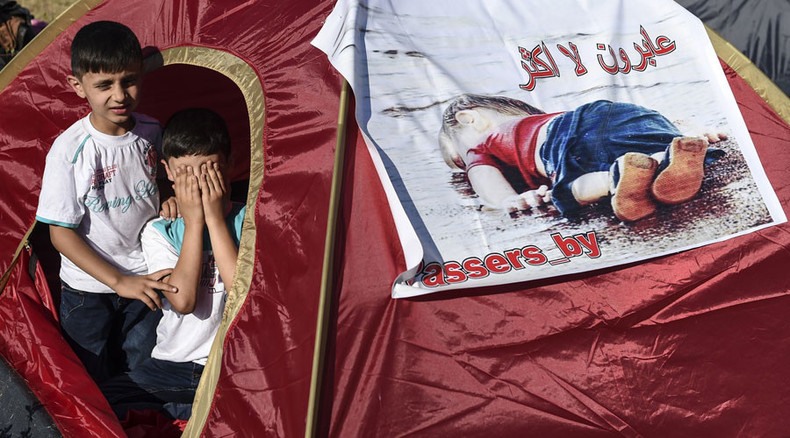 A couple of weeks after the image of a Syrian boy, tossed by seashore waves, revealed the gross scale of the current refugee crisis, a new victim – this time, a four-year-old girl – was found lifeless on a beach, according to Turkish media.
A Syrian girl's body was washed up on a beach in western Turkey on Friday, Anadolu news agency reported. The four-year-old girl, who was found in Izmir province's Cesme district, hasn't been identified yet, according to local authorities.
Turkish coastal officials managed to save lives of other 14 Syrians, including eight children, who were travelling on the same boat, trying to reach the Greek island of Chios, located some seven kilometers off the Anatolian coast in the Aegean Sea.
Over 53,000 migrants had been rescued by the national coast guard since the beginning of the year, Turkish Deputy Prime Minister Numan Kurtulmus said on Friday. He added that over 270 migrants had died in Turkish waters so far, trying to get to Greece.
Kurtulmus said that the country has spent almost $7 billion (€6 billion) on Syrian refugees, as the country has received over 2.2 million people since the start of the conflict in Syria in 2011.
READ MORE: 'I blame myself': Father of drowned kids lays family to rest at home in Kobani (VIDEO)
On September 2, Aylan Kurdi, a 3-year-old refugee from Syria's Kobani, was found on a beach in Bodrum, Turkey after she drowned. He died in a boat accident alongside with his mother and elder brother, and other nine people.
The toddler's image shook the world, unearthing the intimate side of the fate of hundreds of thousands of people fleeing from conflict zones in the Middle East and Africa. Heading for Europe, they chose to turn to human smugglers and risk their lives in overcrowded boats.
The United Nations Refugee Agency (UNHCR) estimated the number of people, who had attempted to cross the Mediterranean Sea so far this year, at over 300,000 people, and some 2,500 refugees and asylum seekers have died in an attempt to escape wars and economic woes.