'Poroshenko is building a dictatorship!' Ukraine's Radical Party leader calls for impeachment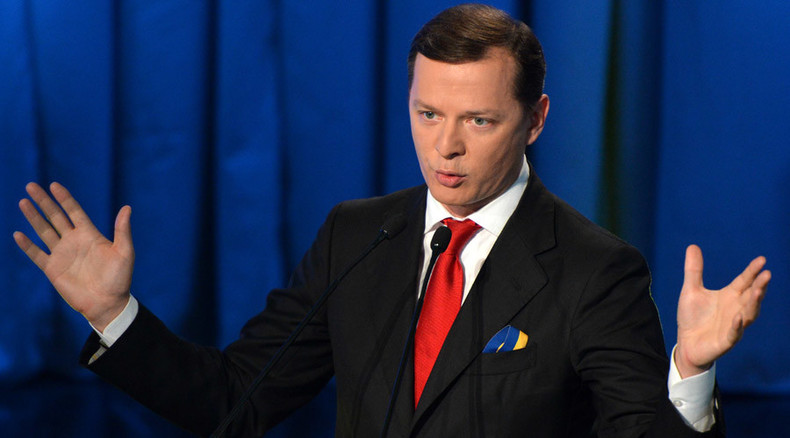 The leader of Ukraine's far-right Radical Party, Oleg Lyashko, has demanded President Poroshenko be impeached for his "crimes" and attempts to build a "dictatorship." The heated statement came after the arrest of Lyashko's party colleague in a bribery scandal.
"Poroshenko is building a dictatorship! Poroshenko is trying to establish authoritarian power by means of intimidations and bribery," Lyashko told the TV-channel "News One" from near the Ukrainian parliament. "I am warning Poroshenko, these are criminal activities which amount to the [need for the] procedure of impeachment and resignation."
"I demand that the Ukrainian parliament adopts a presidential impeachment law, a provisional investigatory commission law and launches the procedure for the impeachment of President Poroshenko for the crimes he committed holding the post," Lashko added, expressing his readiness to give evidence against Poroshenko in court.
Previously on Thursday, the Ukrainian parliament backed the decision to arrest the Radical Party MP Igor Mosiychuk who had been accused by Ukrainian Prosecutor General Victor Shokin of committing "extremely grievous crimes". Before the vote the prosecutor showed a video with Mosiychuk allegedly speaking about the price list for various criminal services.
Following the vote Lyashko asked the parliament to give him a say but the request was rejected, provoking a fight. "I was shocked when I saw the video. I cannot say whether Mosiychuk is guilty. I am not a judge," Lyashko told the 112 TV Channel, adding that it was a shame not to give the floor to him or Mosiychuk.
On September, 1, Lyashko announced that his Radical Party left the ruling coalition and joined the opposition following a parliamentary vote on constitutional amendments aimed at decentralizing the country. He strongly criticized president Poroshenko saying that he is not better – maybe even worse than president Yanukovich.
READ MORE: 2 Ukrainian ultra-radical MPs face investigation for kidnappings, torture
Oleg Lyashko is a far-right politician who has been involved in a number of violent incidents over the past two years. In August this year, a criminal case was reportedly opened against Oleg Lyashko and Igor Mosiychuk. Both were suspected of organizing a criminal group, kidnappings and torture.
LISTEN MORE: