'By all means necessary': Netanyahu vows to stop Palestinian rock-throwers & rioters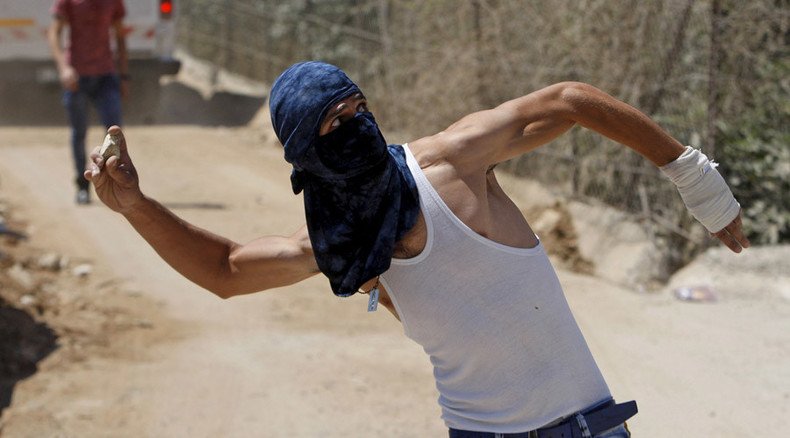 Addressing the worsening security situation in Jerusalem, the Israeli PM has vowed to tackle violence by "all means necessary," including live ammo and harsher prison terms, after an Israeli citizen was killed in a car accident allegedly caused by a rock-throwing attack.
"We will fight through all means necessary against rock throwers, firebomb and pipe bomb throwers, and those who shoot fireworks to harm citizens and police officers," said Prime Minister Benjamin Netanyahu after holding an emergency security meeting following a spate of attacks in Jerusalem during Jewish New Years (Rosh Hashana) celebrations.
PM Netanyahu: We will use necessary measures against those who throw stones, firebombs, pipebombs and fireworks to attack civilians & police

— PM of Israel (@IsraeliPM) September 15, 2015
A 64-year-old Jewish man, Alexander Levlovich, was killed in a car accident on Sunday night while returning home from a dinner celebrating Rosh Hashana. His car was allegedly pelted by unidentified stone-throwers between a Palestinian and Jewish neighborhood in East Jerusalem.
The death of the Israeli came amid ongoing clashes between Palestinians rioters and security forces in Al Aqsa Mosque in the Old City of Jerusalem, as tensions during visits by Jews to Temple Mount intensified around New Year.
"On the eve of the holiday it was again proven that rock throwing can kill," he added. "These activities will meet a very strong response of punishment and prevention. We will lead a systematic change and set a new standard of deterrence and prevention."
READ MORE: 3 arrests amid fresh clashes in East Jerusalem's holy Al-Aqsa mosque compound (VIDEO)
During the security meeting the Israeli government agreed to establish mandatory minimum penalties for rock throwers, including the introduction of heavy fines on parents whose youths engage in violent rioting.
The Israeli office also discussed the possibility of security officers responding to rioters by firing live rounds to quell street violence. A follow-up meeting has been set for next week to discuss the new proposals further.
Israel's Attorney General Yehuda Weinstein has been asked to give an opinion on whether to allow the police to follow the same open fire regulations as IDF in the West Bank, according to Haaretz. While the Israeli army troops are allowed to operate snipers and use small caliber 0.22 inch Ruger rifles when firebombs or large stones are being thrown, law enforcements are not now given such powers.
Attendees at the emergency meeting said that expanding police actions would only require an internal police adjustment, and not a change in legislation. It is now to Weinstein to either give a green light to the expansion or not.
The Temple Mount, one of the most important religious sites in the Old City of Jerusalem, was seized by Israel from Jordan in the 1967 war. The Temple Mount has a special status under Jordanian custodianship while Israel controls security.
Prime Minister Netanyahu added that rioters would not be allowed to prevent Jews from visiting the Temple Mount.

— PM of Israel (@IsraeliPM) September 15, 2015
Tensions over the site have mounted over the past year as Palestinians fear that Jews are visiting the site as part of a wider Israeli plan to assert full sovereignty. Palestinians have also been rioting in protest against wider discrimination against them in East Jerusalem.
READ MORE: Israeli forces storm courtyard of Al-Aqsa Mosque in Jerusalem
In the meeting, Netanyahu once again stressed that Israel is obliged to preserve the status quo on Temple Mount and will not allow rioters to prevent Jews from visiting the holy site. The PM comments were a response to Jordanian King Abdullah II's statement on Monday which blamed Israel for "provocations" on Temple Mount, warning that unless violence is halted, the relationship between Jordan and Israel will be affected.
LISTEN MORE:
You can share this story on social media: