UN 'concerned' for refugees as Mad Max-style train seals Hungary-Serbia border (VIDEO)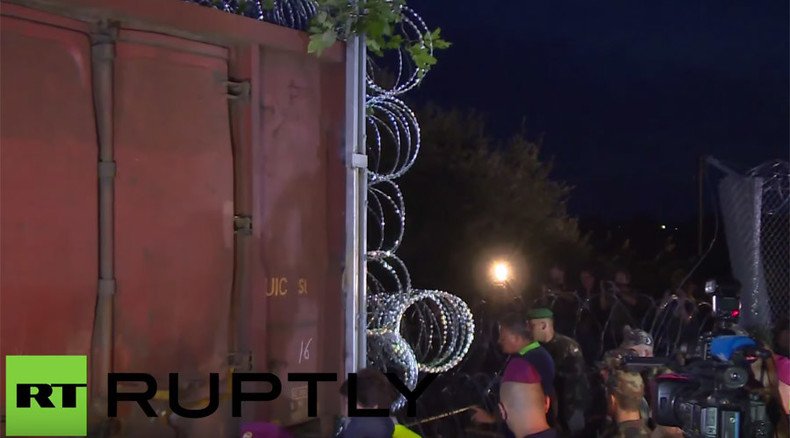 An apocalyptic-looking train fitted with razor wire has been deployed to seal the last gap in Hungary's border with Serbia, amid UN agency warnings that fences and tougher border controls are not a solution to the dire refugee crisis.
LIVE UPDATES: End of Schengen? EU countries toughen border control
Each country has the right to protect its borders, the United Nations refugee agency acknowledged, yet warning that Hungary's protective fence, built on its Serbian border to keep the influx of migrants out, could limit the rights of those people seeking asylum.
"We recognise the right of each country to protect its borders with the tools and methods it deems necessary," United Nations High Commissioner for Refugees (UNHCR) spokesman Erno Simon said, adding that it was "very important" that no barriers were imposed upon people fleeing war zones.
Hungary has closed off its border with Serbia ahead of schedule, after a record 5,809 refugees entered the country on Sunday alone, with more than 190,000 crossings recorded so far this year. Starting Tuesday, Hungary will start implementing tougher border measures that may see those who cross Hungary's border illegally arrested.
On Monday night Hungarian authorities completed the last stitch of razor wire fences along the border. An apocalyptic-looking train wagon with razor wire attached to its front was used to seal a railway passage near Roszke village.
Budapest will reject and turn back those refugees who arrive at the border without previously seeking asylum in Serbia, according to government spokesman Zoltan Kovacs. "Certainly, as that is the international legal rule, therefore it must be done that way," said Kovacs, as cited by Reuters.
Hungarian military trucks cleared the makeshift camp in Roszke, as part of the government's effort to tighten up border controls. Meanwhile riot gear policemen carefully watched over the crowds of migrants desperately trying to cross the border.
We're worried that borders soon to close again in Europe may leave refugees in legal limbo. Refugees we're meeting at...

Posted by UNHCR on Monday, September 14, 2015
"We're worried that borders soon to close again in Europe may leave refugees in legal limbo," UNHCR said on its Facebook page. "We urge Europe's governments to keep their borders open."
READ MORE: Austria deploys army to boost refugee checks, Slovakia brings back border controls
Slovakia, Austria, and the Netherlands also introduced border controls on Monday, after Berlin decided over the weekend to tighten up its borders.
According to the Austrian police, at least 14,000 refugees arrived on Sunday followed by 7,000 on Monday, as thousands rushed to cross the border before tougher controls entered into force. Meanwhile hundreds of refugees arrived at Hungary's Hegyeshalom railway station near the Austrian border from camps in the south on Monday evening.
On an EU-wide scale, member states reached an initial agreement on the redistribution of 120,000 refugees among the member states during an emergency meeting on Monday. The final decision on refugee shares within the EU is expected to be taken on October 8.
LISTEN MORE:
You can share this story on social media: