No compromise for Okinawa? Protests or not, work on US base in Japan resumes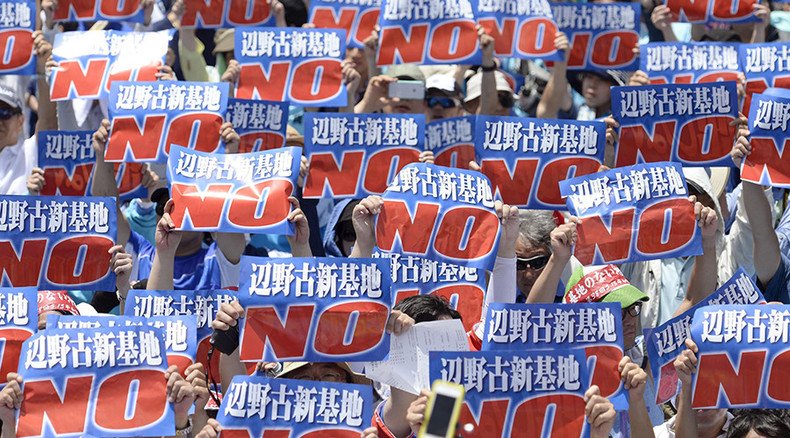 The relocation process of a US military base in Japan's Okinawa has been resumed, even though month-long talks between Tokyo and local authorities angered by the "troublesome neighbour" still haven't broken the impasse.
The "concentrated discussions" on the project that faced fierce opposition of the locals ended in vain on Saturday and the construction works in Henoko, Okinawa, have now resumed, Japan's Kyodo news agency reports.
READ MORE: Japan halts construction of US base in Okinawa for 'concentrated discussions' with local authorities
The decision has sparked a wave of indignation among residents who demand the base to be shut down and rebuilt elsewhere in Japan or overseas. They took to the streets of Henoko, a small coastal area in Okinawa.
Their claim was backed by Takeshi Onaga, the outspoken governor of Okinawa, and other local officials.
"It was extremely regrettable. I will not let [the central government] build a new base in Henoko by any means," the governor said.
The plan to move the US Marine Corps Air Station Futenma from Ginowan to Henoko, which is the southern island of Okinawa, was first announced in 1996 and has since disturbed the local population.
During a meeting with Onaga in April Japanese Prime Minister Shinzo Abe noted that "the relocation to Henoko is the only solution," though it had been voiced more than once that the base posed hazard to nearby residents' lives and needed to be moved.
Japan has already been shaken by a number of protests against the relocation plan earlier this year. Thousands of protesters from as far as Hokkaido to Nagasaki condemned the Japanese government's policy on the matter and demanded their voices to be heard.
READ MORE: US insists military bases will stay in Okinawa, despite opposition from locals, governor
Washington doesn't plan on closing the facility in Ginowan, which is currently located in a crowded urban area, until it is replaced by a new one.
Meanwhile, Shinzo Abe's ratings keep on going down as the situation with the US airbase is intensifying and parliament is discussing a bill aimed at promoting Japanese military's role in the world's geopolitics.
You can share this story on social media: