Japan halts construction of US base in Okinawa for 'concentrated discussions' with local authorities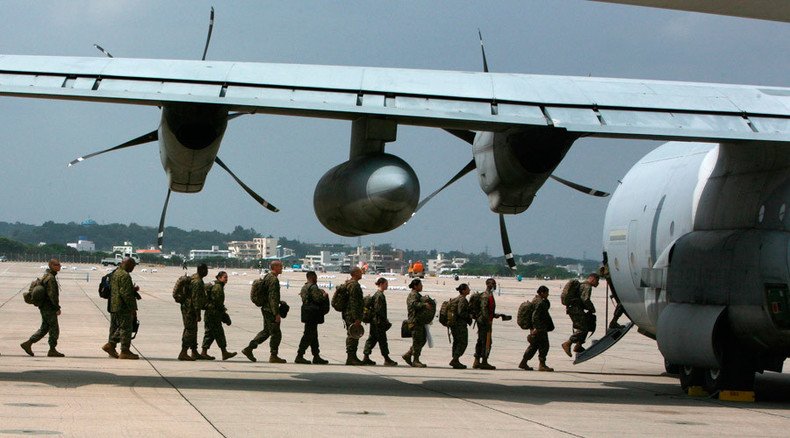 Japan will temporarily halt the construction of a highly controversial US military base in Okinawa as talks with regional authorities intensify. Locals have continued to oppose the relocation of the US Marine Corps' Futenma Air Station.
The project will be halted from August 10 through until September 9, Chief Cabinet Secretary Yoshihide Suga has announced. In an effort to smooth over the standoff between the central government and the periphery, Tokyo says it is continuing to engage in talks with Okinawa's Governor Takeshi Onaga.
"We'd like to listen to the opinion of Okinawa Prefecture," Suga said as he announced plans to soon to meet with Onaga for "intensive discussions."
The relocation of the airbase to the southern island of Okinawa has been met by fierce opposition from the locals. Thousands have recently marched in Okinawa and across Japan protesting against the planned relocation of the US military base capable of hosting an estimated 26,000 troops.
READ MORE: 1000s form human chain outside Japan parliament over US military base
Demonstrators criticized the Japanese government, who appear to have so far turned a deaf ear to the locals who bitterly protest against the US military.
There is a long history of incidents and crimes allegedly committed by US troops on the island. The current wave of anti-airbase sentiment on Okinawa was sparked by a case in 1995 in which three US marines were reported to have kidnapped and brutally raped a 12-year-old schoolgirl.
READ MORE: US insists military bases will stay in Okinawa, despite opposition from locals, governor
Onaga who took office in December is a vocal opponent of the new construction. He has welcomed Tokyo's call to delay the project.
"I feel that our voices have been finally heard," Onaga said. "I will spare no effort if the dialogue will help break the ice for a solution to this problem."
Marine Corps officials on Okinawa said that while Japan takes time to decide, the US remains committed to seeing a new base built for them
"Construction of the Futenma Replacement Facility at Henoko Bay is the meaningful result of many years of sustained work between the United States and Japan and is a critical step toward realizing our shared vision for the realignment of US Forces on Okinawa," a Marine Corps spokeswoman wrote in a statement to Stars and Stripes.
You can share this story on social media: