Muscles of steel: Siberian woman moves 17-ton tram car in record-breaking stunt (VIDEO)
A Russian sportswoman has moved a real tramcar, dragging it for five meters, possibly setting a new record.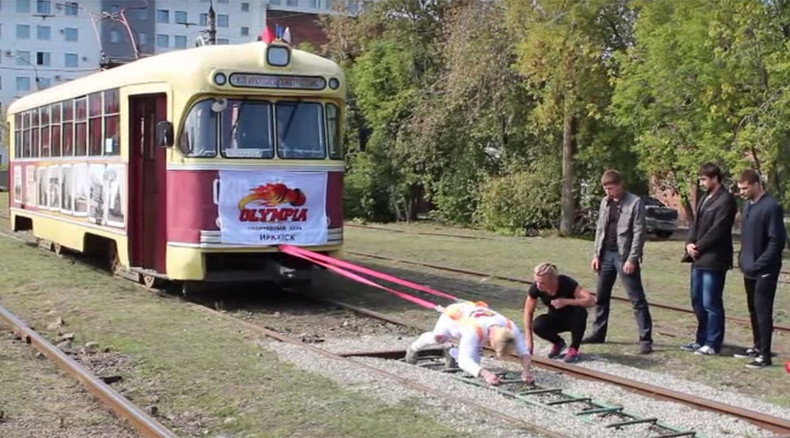 Oksana Kosheleva, a powerlifter from the Siberian city of Irkutsk, who weighs only 79 kilograms, has moved a tram car weighing a little over 17 tons and dragged it for five meters.
It has been reported the achievement could be listed as a sports record in Russia.
"Emotional disposition is important. You should clearly understand whether you need it or not. If you do not need it, you will not succeed in this challenge," Kosheleva said, local news website IRK.ru reported.
Kosheleva said she also wants to move a 20-ton plane and to get her achievement listed in the Guinness Book of World Records.
A suitable airplane could not be provided for the powerlifter in Irkutsk. She hopes to get one next year at an airshow in Tyumen, another Siberian city.
"I was preparing to move a plane but eventually ended up with a tram car. It was not hard, actually. It should be longer, next time we will make it longer. We may make it two tram cars or three, or four," Kosheleva said.
Kosheleva is continuing her training and is preparing to move a military vehicle as soon as next week. Negotiations with the local military base are already under way.
Kosheleva has been is a champion of Siberia in powerlifting in her weight category since 2014 and is the fourth strongest woman in Russia, local media reports. Previously she has moved a bus, a Russian KAMAZ truck and a heavy transporter weighing 16,5 tons.
In August, Ivan Savkin, powerlifting champion from the Russian Far East, moved the famous Soviet T-34 WWII tank, weighing 26 tons, and dragged it for about 6 meters, Mir24 TV News reported.
You can share this story on social media: