At least 104 dead in blast at packed Indian restaurant – officials
Published time: 12 Sep, 2015 05:38
Edited time: 12 Sep, 2015 17:59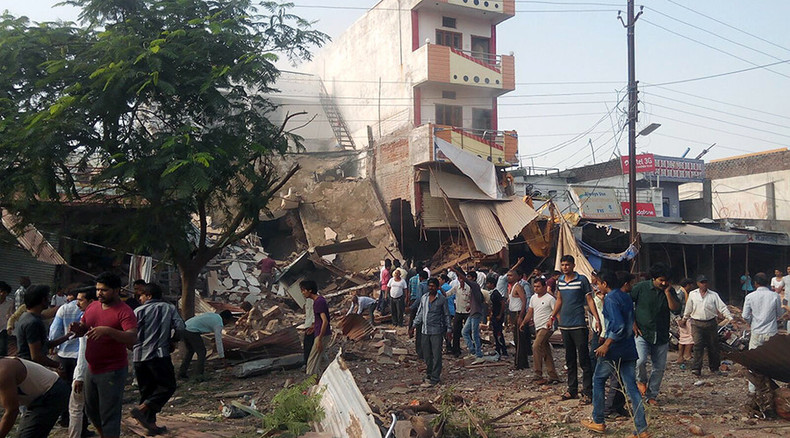 At least 104 people have been killed and over 150 have been injured after an explosion destroyed a two-story restaurant in India's Madhya Pradesh, according to officials.
"The restaurant was in a tightly packed locality and a lot of people were here having breakfast, that is why the casualties are so high," Seema Alava, additional police superintendent for Jhabua, told Agence France-Presse from the site by phone.
The blast, which ripped through the restaurant in Jhabua district, was believed to be a burst of a gas cylinder. The investigation has revealed that the detonation occurred in a house belonging to demolition specialist Rajendra Cassava, who has a license to use explosives for well-boring in mountainous regions.
It occurred in the town of Petlawad at about 8:30 a.m. local time (5 AM GMT).
"There was a second explosion, there were more casulaties," police inspector Gaur told Reuters. He added the restaurant was next to a building where gelatine sticks used at construction sites were stored.
The second floor of the restaurant was reportedly occupied by a hotel.
Buildings next to the blast site have also been considerably damaged.
Rescue workers have been searching for survivors in the debris. The blast site has been cordoned off by police. According to police, at least 20 people still remain trapped in the debris, so the death toll could rise.
Many of the hospitalized were in critical condition, TASS news agency reported. Local authorities said they would pay $3,000 in compensation to the families of those killed in the explosion.
The restaurant was situated close to a busy bus stop, which explains the high number of casualties, AFP reported, citing Anurag Mishra, an official from the district police control room.