Russia backs Syria's fight against ISIS, not Assad's regime – Lavrov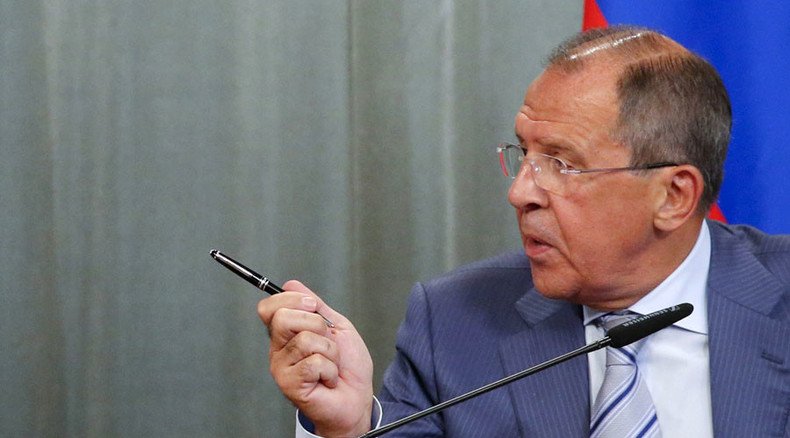 Moscow is set to continue supporting Syria in its fight against Islamic State and provide Damascus with military supplies, Russia's foreign minister said, stressing that the drills of the Russian Navy near Syrian shores fully comply with international law.
"We support the fight of the Syrian government against so-called Islamic State, which neither represents Islam, nor happens to be a state," Sergey Lavrov said Friday.
Russia will not hesitate to continue maintaining Syria's defensive capacity to counter the terrorist threat, Lavrov said.
"I can tell you once again, that our servicemen and military experts remain there [in Syria] for the maintenance of Russian [military] hardware and assisting the Syrian army in using this hardware, there's training under way," Lavrov said, stressing that military hardware supplies will continue.
In fighting terrorism, Moscow has always supported "teamwork based on international legislation," the foreign minister said.
READ MORE: US backs those who want to use terrorists against Assad – Lavrov
Germany has said it welcomes more Russian engagement in the fight against Islamic State.

"I think we would welcome the Russian Federation and the Russian president ... getting actively involved in the fight against ISIS, given the dangers arising from Islamist terrorism," Reuters cited German Foreign Ministry spokesman Martin Schaefer as saying, speaking at a regular government news conference in Berlin on Friday.
Lavrov also reiterated that the anti-ISIS coalition should start cooperating with the Syrian government and army on the ground.
"The most effective and powerful ground force to fight Islamic State is the Syrian army," Lavrov said, adding that coordination is necessary to avoid "unintended incidents."
LISTEN MORE:
Moscow has been calling on to the US-led anti-ISIS coalition to team up with the Syrian army from the very beginning of airstrikes against Islamic State one year ago.
"Better late than never," Lavrov said.
"If battling terrorism is a priority, than all opportunistic considerations, like a regime change in Syria, should be put aside," he added.
READ MORE: 'Radicalizing radicals': US military aid landing in hands of ISIS
Moscow fully supports the revival of contacts between the Russian and American military, Lavrov said.
"If Washington, like [US Secretary of State] John Kerry reiterated, is ready to unfreeze such contacts, than here's our welcome," Lavrov said, recalling that when the contacts, now suspended on the US initiative, were in place, they were extremely stable and trustful.
READ MORE: US State Dept. nervous about 'press reports' of Russian military in Syria
"We always back up professional dialogue of the militaries, they understand each other well," Lavrov said. "It's important to preclude undesired and non-deliberate incidents," Lavrov said.
As for the naval drills conducted in the Mediterranean, Lavrov said he had no exact information about the schedule of the drills, but confirmed that they take place on a regular basis.
He also insisted that any training of the Russian Navy in international waters is conducted in full compliance with international law.
Russian authorities have warned that national naval training is taking place east of Cyprus and will last till September 17.
You can share this story on social media: