Napoleonic Battle of Borodino re-enactment in Moscow captured by drone (VIDEO)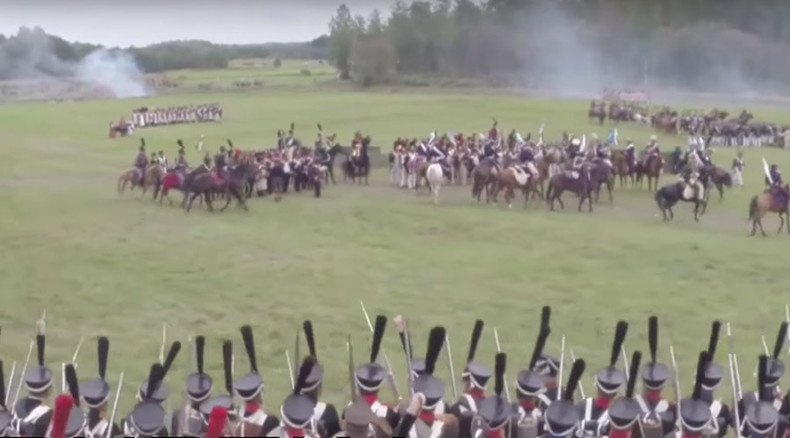 A spectacular reenactment of the decisive battle in the Napoleonic campaign in Russia in 1812, the Battle of Borodino, has been captured by a drone. For over two hours, cavalry and infantry clanked swords and shot muskets all wearing 19th Century military uniforms.
Some 3,000 men and 300 horses took part in the historical reenactment in Moscow, which drew in thousands of spectators. The cavalry, infantry and artillery all wore identical reproductions of uniforms documented in the chronicles about the most famous battle of Napoleon's disastrous invasion of Russia.
The War of 1812, when Napoleon lost all of his Grand Army in Russia, was particularly memorable because of the decisive Battle of Borodino.
Napoleon's intention of defeating the Russian army, led by Mikhail Kutuzov, in a single battle were not rewarded with success. Russians demonstrated miraculous bravery and military skills, with the French only gaining a tactical victory.
"The French have proved worthy of victory and the Russians earned the right not to be defeated," the French Emperor said, calling the Borodino events the "battle of giants."
The great battle 203 years ago lasted 12 hours and involved around 250,000 troops from both sides. Over 45,000 Russian soldiers died and around 30,000 were killed on the French side, making it the single deadliest day of the Napoleonic Wars.
You can share this story on social media: