'Europe's moment of truth': UNHCR outlines 'fundamentals' of handling refugees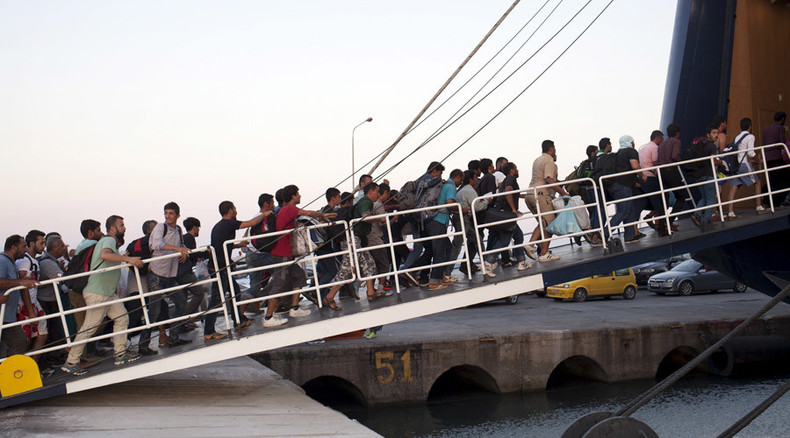 The UN refugee agency has outlined "fundamental" principles to guide Europe's struggle with an enormous influx of asylum seekers, while wealthy Gulf States are facing growing criticism of their reluctance to open borders for refugees from conflict zones.
The numbers of refugees fleeing to Europe continues to increase, according to UN refugee agency (UNHCR) estimates. More than 350,000 people escaping conflicts in the Middle-East and Africa have risked their lives to cross the Mediterranean Sea so far in 2015. Between April 2011 and July 2015, the EU states have received nearly 350,000 asylum applications from Syrians alone, which accounts for around 6 percent of the Arab republic's population.
"Europe cannot go on responding to this crisis with a piecemeal or incremental approach. No country can do it alone, and no country can refuse to do its part," said the head of the UN refugee agency Antonio Guterres in a statement issued on Friday ahead of a key round of EU meetings on the crisis.
"Exceptional circumstances require an exceptional response. Business as usual will not solve the problem."
On Friday Guterres laid out six fundamental principles he said should be borne in mind in all efforts to resolve the issue. He urged for people to remember that it is "primarily [a] refugee crisis," as well as stating that Europe cannot go on responding to this crisis with a "piecemeal or incremental approach" and "no country can do it alone." He called for "urgent and courageous measures to stabilize the situation."
Regional response from some Arab states has facilitated the refugee crisis in Europe with Lebanon harboring over 1,1 million Syrians, Turkey – nearly 2 million, Jordan – over 600,000, Egypt – over 130,000 and Iraq – nearly 250,000, according to the UNHCR figures. More than 10 million Syrians, or some 45 % of the population are currently displaced.
However, there has been criticism of the oil-rich Gulf States – Qatar, United Arab Emirates, Saudi Arabia, Kuwait and Bahrain –which have offered "zero resettlement places to Syrian refugees," according to human rights watchdog Amnesty International.
"GCC countries – due to their geographical proximity, historical links with Syria and relative integration potential (due to common language and religion) – should make a significant contribution to the resettlement of Syrian refugees," Amnesty wrote in a report.
LISTEN MORE:

Some Arab media and social media users have also put the oil-rich countries to shame for failing to offer support to their "Arab brothers." The Saudi daily Makkah Newspaper published a cartoon showing a two doors: one with an EU flag and a refugee sitting in front of it; the other with barbed wire and a man in traditional Gulf clothing looking out and pointing to the next door saying "why don't you let them in, you impolite people?!"
There has also been a wide discussion about the horrific pictures of a drowned three-year old Syrian refugee boy who washed ashore in Turkey with people questioning the Arab mobilization.
The hashtag #Welcoming Syria's_refugees_is_a_Gulf_duty has also been trending on Twitter, used over 30,000 in the past week. Another hashtag which says #People_demand_admission_of_refugees in Arabic has called on the Gulf States to welcome refugees.
Part of the problem, however, is that Gulf Arab states are reluctant to give anyone a refugee status, not just Syrians fleeing the war. Instead they allow foreigners, including may Syrians, to apply for or renew their work or travel visas. This however would be costly for majority of the people fleeing their homes leaving everything behind.
LISTEN MORE:
READ MORE: EU refugee crisis 'absolutely expected' – Putin
The number of foreign workforce members in most of the Gulf states already exceeds the native population, raising concerns that migrant workers might also opt for a permanent residence in the countries whic open their borders for refugees.
"Their concern would be that if they started recognizing political asylum it could potentially open the doors for a multitude of their temporary workers to stay permanently and that would raise a lot of quite complex issues," Jane Kinninmont, deputy head of the Middle East and North Africa program at Chatham House in London, told Radio Liberty.
READ MORE: People flee from Syria because of ISIS, not Assad regime
The massive flow of refugees "will not stop until the root causes of their plight are addressed," Guterres said. "Much more must be done to prevent conflicts and stop the ongoing wars that are driving so many from their homes.