French probe confirms debris found on Reunion Island definitely from MH370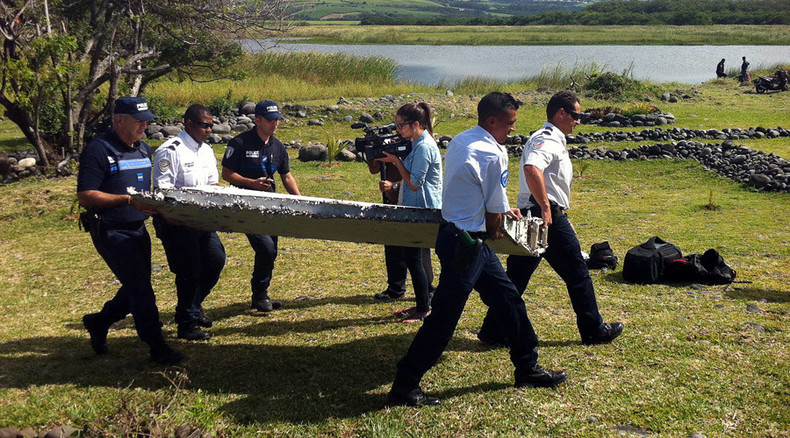 A French prosecutor has announced that the wing part found on France's Reunion Island in the Indian Ocean has been formally identified as part of missing Malaysian Airlines flight MH370.
According to the investigators, they managed to identify one of three numbers found on the flaperon as being the serial number of the MH370 flight after they interviewed a technician from Airbus Defense and Space (ADS-SAU) in Spain, which had made the part for the Boeing 777.
"It is therefore possible to confirm with certainty that the flaperon found on Reunion island on July 29, 2015 corresponds to the one from flight MH370," the Paris prosecutor said in a statement on Thursday.
Though the reasons for the catastrophe are still unknown, the attribution of the debris has made a large contribution to the investigation of the incident.
Former US National Transportation Safety Board investigators Greg Feith told Bloomberg last month that as the piece has maintained its integrity one "can deduce it was either a low-energy crash or a low-energy intentional ditching."
READ MORE:French probe confirms debris found on Reunion Island definitely from MH370
Last month Malaysian premier Najib Razak said that the international team of experts had conclusively confirmed that the aircraft debris found was from MH370. The statement was made before the results of the examination by the French investigators.
Malaysian airlines flight MH370 went missing en route to Beijing on March 8, 2014, with 239 people on board shortly after taking off from Kuala Lumpur. Its disappearance prompted a massive international search in the South Indian Ocean, the China Sea, and the Gulf of Thailand. The discovery of the wing part on Reunion Island was the first major breakthrough in the search.
You can share this story on social media: