Plane debris discovered on Reunion Island belongs to flight MH370 – Malaysian PM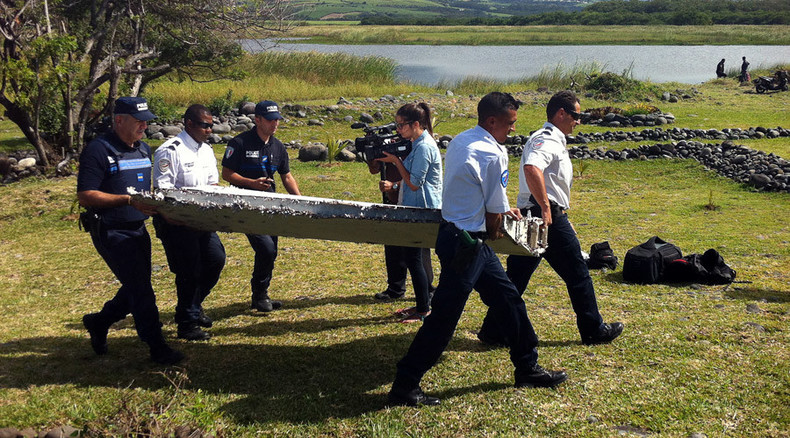 Malaysian premier Najib Razak has confirmed that a piece of a plane wing found on Reunion Island belongs to flight MH370 which went missing last year.
The PM has also stated that his government is working to discover the truth about what happened to the flight.
"The international team of experts have conclusively confirmed that the aircraft debris found on Reunion Island is indeed from MH370," he said in a televised statement, as cited by Reuters.
The examination is being conducted under the direction of a judge at an aeronautical test facility run by the French military and situated near the French city of Toulouse. Investigators are analyzing the metal with high-powered microscopes to look into the cause of the crash.
Malaysia Airlines has issued a separate statement, saying that the relatives of passengers and the crew have been informed, and that the discovery was a major breakthrough in finding out why the MH370 flight had disappeared.
"We expect and hope that there would be more objects to be found which would be able to help resolve this mystery," the statement added.
French prosecutor Serge Mackowiak has told journalists that a suitcase fragment discovered alongside the wing section is set to be examined as soon as possible by the French police.
Mackowiak said that investigators have ""very strong presumption" that the debris belongs to MH370. A further probe should confirm the suppositions.
READ MORE: Madagascar aircraft part belongs to Boeing 777 – Malaysian official
Malaysia Airlines Flight MH370 went off radar in March last year en route from Kuala Lumpur to Beijing with 239 passengers and crew on board.
The part of the wing which has been found, however, cannot be expected to immediately reveal too many details about what happened to the plane.
"A wing's moving surfaces give you far fewer clues than bigger structures like the rudder, for example. As a single piece of evidence, it is likely to reveal quite little other than it comes from MH370," a former investigator told Reuters.
The investigators' primary theory is that the radar was purposefully switched, with the responsible party then making the plane veer off-course, deliberately crashing the Boeing into the ocean.