China's V-Day parade countdown: 12,000 troops & missile might expected
The military parade in Beijing on September 3, celebrating Japan's surrender in World War II, is going to demonstrate some 500 units of China's military hardware rolling across Tiananmen Square, accompanied by 12,000 troops.
The parade of the People's Liberation Army (PLA) will last over an hour and together with 500 vehicles of 40 types it will showcase over 200 Air Force aircraft, according to local media.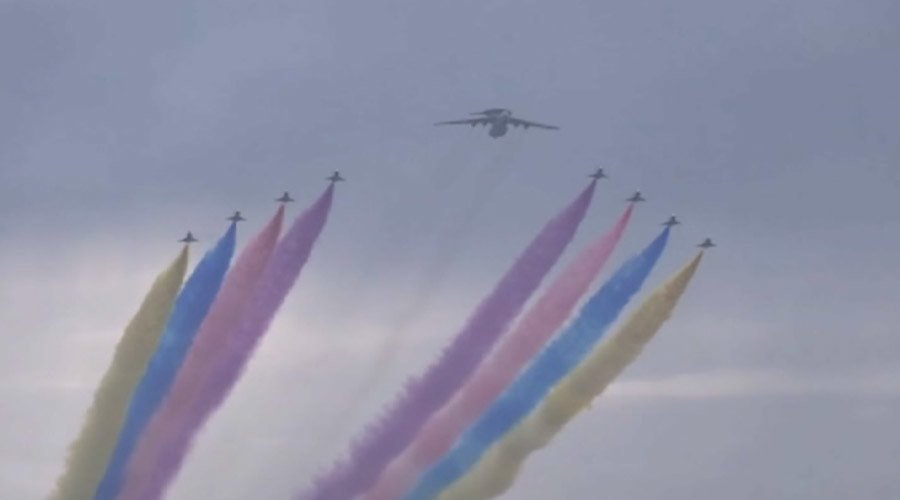 Chinese authorities claim that up to 84 percent of the military hardware to take part in the parade has never been publicly presented before.
A parade rehearsal conducted in late August exposed that China is preparing to roll out at least three types of ballistic nuclear missiles on to Tiananmen Square.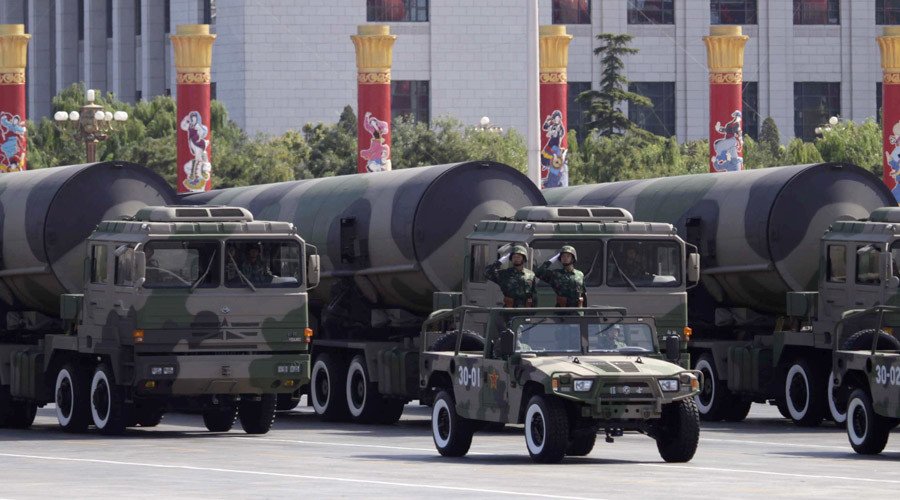 One of them is the Dong Feng-21D (DF-21D) antiaircraft-carrier medium-range ballistic nuclear missile, capable of engaging a moving target out at sea with the help of the Yaogan satellite constellation, delivered to orbit in 2006-2014. China's 'Carrier-Killer' has an alleged range of up to 2,000km and could be armed with either conventional explosives or a 300 Kt nuclear warhead.
Another missile expected to be on display on Thursday is the newest medium-range ballistic nuclear missile, the Dong Feng-26 (DF-26), a development from the DF-21. With a range of 3,500km it can reach foreign military bases, such as the island of Guam in the Pacific.
Also, Beijing is likely to present its newest strategic ballistic missile, the DF-5, which has an intercontinental range of 12,000km and could be armed either with a single, yet extensively powerful, 5 Mt nuclear warhead, or with 10-12 less powerful independently targetable warheads.
LISTEN MORE:
Xinhua news agency reports that altogether there will be seven types of missiles on show.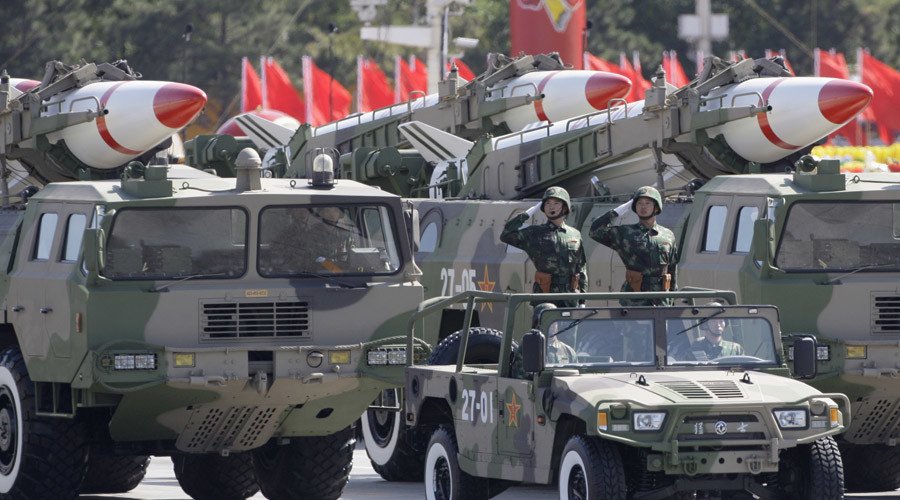 The agency also says that a new long range bomber will fly over the parade, along with other military aircraft: fighter jets, carrier-launched aircrafts, sea patrol aircrafts, tankers, assault helicopters etc.
For the first time in the history of Chinese military parades, female soldiers will march on Tiananmen Square.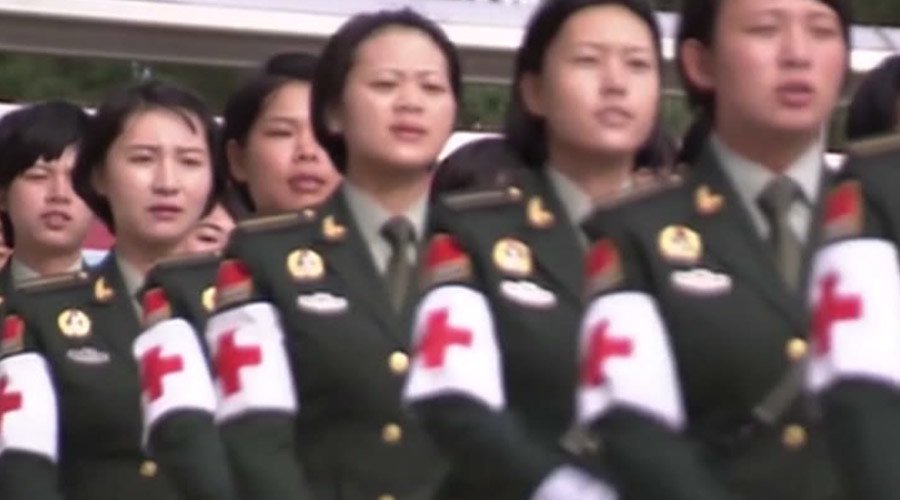 Also for the first time, the event will be accompanied by a 2,400-strong PLA's massed choir to sing some 30 songs during the parade.
Veterans of the China's War of Resistance Against Japanese Aggression, fighting for independence of their country in 1930s-40s, with their average age in well in the 90s, will be brought to the parade on buses.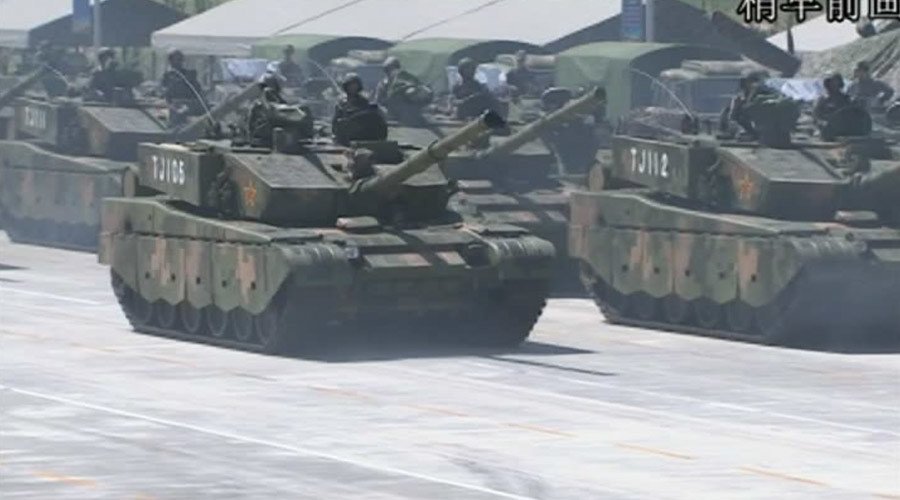 Just as in the Victory Day parade in Moscow this year, Chinese troops will not march alone in Beijing. Troops from Belarus, Cuba, Egypt, Kazakhstan, Kyrgyzstan, Mexico, Mongolia, Pakistan, Serbia, Tajikistan and Russia will join them. Each country will bring 75 servicemen to the Chinese capital.
Six more countries: Cambodia, Fiji, Laos, Vanuatu and Venezuela, will be represented by small units of up to seven soldiers.
Russia will be represented with 154th Commandant Regiment stationed in Moscow, which is expected to close the parade of the troops.
Not all world leaders extended an invitation are going to attend the Victory Day parade in Beijing. Leaders of the Western powers and NATO member states will not travel to China and are to be represented by lower-ranking officials and diplomats – apart from the Czech Republic, which will be presented by President Miloš Zeman.
Although Japanese Prime Minister Shinzo Abe was officially invited, he declined.
North Korean leader Kim Jong-un also declined the invitation, saying he will oversee a parade at home, while South Korean President Park Geun-hye will be in attendance.
Among other heads of state to come to Beijing are South African President Jacob Zuma, Pakistan's President Mamnoon Hussain will also be present, as well as leaders of the four Central Asian states that are part of the China-based Shanghai Cooperation Organization (SCO).
Russian President Vladimir Putin will have a two-day visit to Beijing to conduct a number of meetings and sign about 30 official documents with the Chinese government. Already dubbed Beijing's "main guest" at the event, Putin's visit begins on the evening of September 2.
Tune in to RT at 02:00 GMT to watch the WWII Victory parade in Beijing LIVE
You can share this story on social media: