Russian troops to join China's parade to celebrate victory over Japan in WWII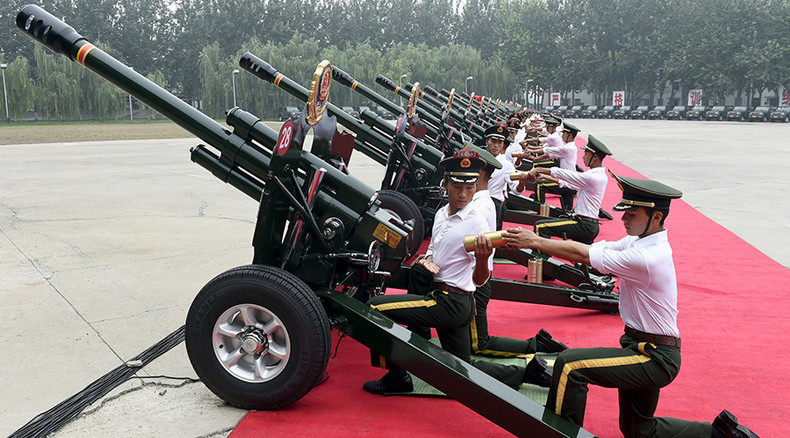 Russia will be one of ten foreign countries that will take part in a grand parade celebrating the 70th anniversary China's victory over Japan, which has put strain on the already-tense relationship between Beijing and Tokyo.
"Their participation in the parade is a clear indication of their willingness to jointly commemorate victory in the World anti-fascist War, and a symbol of the pursuit of and hope for lasting world peace," Qu Rui, deputy chief of the Operations Department of the General Staff Headquarters of the People's Liberation Army (PLA) told the media in Beijing.
Apart from Kazakhstan, it was not confirmed which other countries would be attending the spectacle, which will comprise 12,000 troops and 200 aircraft. It was previously reported that Mongolia and Mexico would dispatch 75-man units to the parade.
For weeks, 27 armament formations have been rehearsing for the September 3 show in a replica of the Tiananmen Square – where the parade will be held – specially built outside Beijing. China has boasted that 84 percent of the weaponry to be shown at the parade has never been seen by the public.
China has worked hard to remind the world that it suffered casualties of at least 15 million people, mostly civilians, in its fight against Axis Japan, a role, Chinese politicians say is underplayed in Western narratives of World War II.
But while the historical significance of the date of Japan's surrender is not to be underestimated, the context is highly contemporary, and the timing is not accidental. China has held only 14 military parades since 1949, when Communists solidified their power, and never one on September 3.
The preparations for the parade, which have been shown daily on local television, have been accompanied by documentaries highlighting the atrocities committed by the Japanese, while editorials in state newspapers have castigated Japan's nationalist prime minister Shinzo Abe for failing to fully accept blame.
READ MORE: Japan stages 1st regional drills with West - as PM Abe stops short of apology for WWII atrocities
Afraid of wading into an increasingly politicized situation, almost all Western leaders have declined an invitation, and Barack Obama's top Asia adviser, Evan Medeiros, publicly wondered if a military parade filled with new tech would reinforce a message of peace, as is claimed by the organizers.
Among those who have confirmed their attendance, are Russian president Vladimir Putin, and South Korean president Park Geun-hye. South Korea also suffered heavily at the hands of Japanese occupiers, and Seoul similarly believes Tokyo has not sufficiently atoned for its war crimes.
The current tension between China and Japan can be attributed to the territorial dispute over the uninhabited Senkaku/Diaoyu islands, but also the domestic situations of both Abe, and Xi Jinping, both of whom have tried to shore up their credibility by appealing to nationalist sentiment.
You can share this story on social media: