Japan stages 1st regional drills with West - as PM Abe stops short of apology for WWII atrocities
Published time: 14 Aug, 2015 16:54
Edited time: 14 Aug, 2015 18:08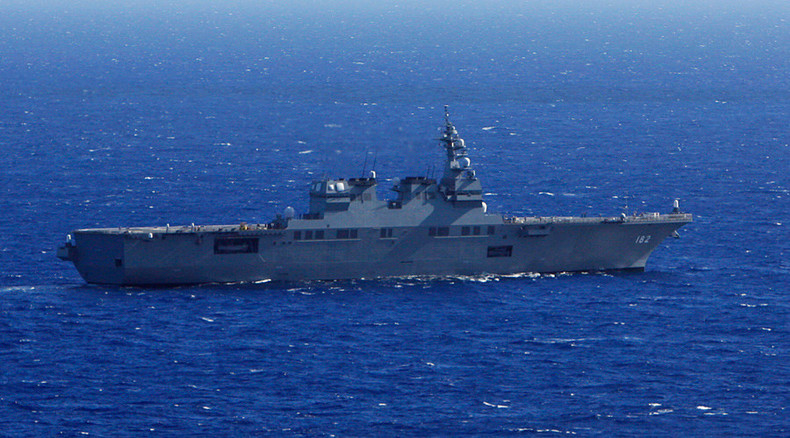 Amid the renewed vigor for militarization, Japan has joined its partners the US and the Philippines in maritime humanitarian drills in the South China Sea, right under China's watchful gaze. Beijing has had the allies nervous over its recent military exercises.
Seven Western allies were en route to Vietnam for a humanitarian mission, with a Japanese ship docking at a former US naval base in Subic Bay in order to refuel a US Navy floating hospital. This marks the first time a Japanese warship has taken part in humanitarian relief drills in the region, despite the fact that many of its navy vessels have been making annual port calls to Manila.
Humanitarian drills will now be a regular staple in the wider military drill framework, US Seventh Fleet Task Force 73 commander, Rear Admiral Charles Williams, said.
READ MORE: 'Go home!' Japan PM heckled over US bases in Okinawa during WWII ceremony

"You are seeing in exercises ... a shift from strictly bilateral engagement to multilateral, which is why you see the Japanese here today," Reuters cited him as saying, while aboard one of the two hospital vessels. Williams added that the presence of Admiral Katsutoshi Kawano, the head of Japan's Self-Defense Forces, "speaks volumes about their commitment to the region and their commitment to being part of a multilateral engagement."
The US commander emphasized "stability" and "security" as the main aims of such an engagement.
Regional players have been showing deep dissatisfaction with China over its claims on most of the South China Sea and the $5 trillion-worth of trade that passes through it. Beijing has been assertive in building up its military as well, which includes artificial islands with massive artillery.
Territorial claims have been overlapping there, while the Japanese and the Chinese have a separate argument over in the East China Sea as well.
Earlier this week, the Japanese commander met with the his Philippine counterpart, General Hernando Iriberri, and Defense Secretary Voltaire Gazmin in Manila, to reaffirm Japan's commitment to holding joint maritime exercises, as well as an increase in further military and humanitarian cooperation.
All of this is taking place amid the 70th anniversary of Japan's WWII surrender – something that has been a hot topic of debate among those who believe Prime Minister Shinzo Abe should voice a clear and unambiguous apology for Japanese wartime atrocities.
But on Friday, Abe instead expressed his "utmost grief and… eternal, sincere condolences," stopping just short of a full apology. The PM is known for the view that those generations who did not participate in the war have nothing to be explicitly sorry for.
The address, broadcast on live television, had Abe talk of repenting for past errors, but also looking toward "peace and prosperity" for Japan's future.
"We must not let our children, grandchildren, and even further generations to come, who have nothing to do with that war, be predestined to apologize," he told reporters.
China and South Korea – whose female citizens the Japanese troops had used as "comfort women," or sex slaves, during the conflict decades ago – are not fond of this attitude. The two countries bore the brunt of Japanese actions then.
In their time in office, Abe's predecessors struck a markedly different tone. In 1995, then-Japanese PM Tomiichi Murayama offered a "heartfelt apology" for his country's "colonial rule and aggression" – a statement that was repeated word-for-word 10 years later by PM Junichiro Koizumi, on the 60th anniversary of Japan's surrender. This is something the Chinese and South Koreans would like to see again, but have had no luck with.
One of the main sticking points for both countries – that their women were used as sex slaves by the Japanese army – has not been directly tied by Abe to Japan's actions: "We will engrave in our hearts the past, when the dignity and honor of many women were severely injured during wars in the 20th century," Abe said. "Upon this reflection, Japan wishes to be a country always at the side of such women's injured hearts."
As a sign that increasing militarization might be taking place, modern cooperation with the US appears to mean that Japan will no longer engage in military action only when attacked, but will now also be taking part in "collective self-defense" when its closest ally, the United States, is threatened. This caused a huge stir in May, when new legislation was pushed through. However, the reinterpretation of Japan's constitution has been well under way for a year now.
Abe could face increasing resistance at home, as the biggest anti-US protests in decades have been organized. He seems not to view this as a problem, although he has faced heckling in June, when crowds protested over the continuing US military presence on the island of Okinawa, as he spoke on the 70th anniversary of the battle there.