Spanish bank blocks payment to RT over EU sanctions against non-related media chief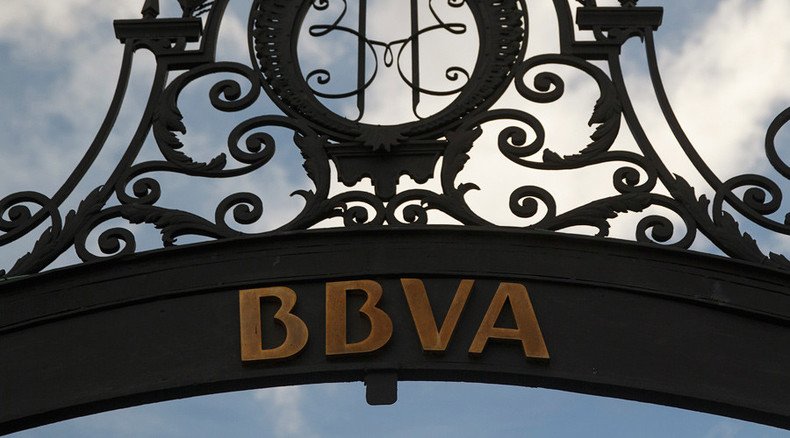 The British branch of the Spanish bank BBVA has blocked a transaction to RT, citing European sanctions against Russian media executive Dmitry Kiselev. Kiselev, who heads media holding company Rossiya Segodnya, is not affiliated with RT.
The transaction in question was due payment to RT by Axiom Media, the company that sells advertising on RT broadcasts in Britain. Although RT itself is not under sanctions, BBVA has not carried out a transaction to RT's account, saying it "could potentially be made available to an entity or body associated with Mr Dmitryi (sic) Konstantinovich Kiselyov."
Kiselev heads a Russian media holding company called Rossiya Segodnya, created after an overhaul of longtime Russian news agency RIA Novosti. Although "Rossiya Segodnya" translates as "Russia Today" in English (the name was used by RT before 2009 rebranding), the two news outlets are separate entities. Kiselev holds neither a paid nor unpaid position within RT, nor is he a stakeholder.
Yet, having blocked the money in connection with the situation with an entirely separate organization, the bank representatives said that the funds "available to an entity or a body associated with him [Kiselyov], or for his benefit, would potentially breach" European sanctions rules. Kiselev was slapped with individual sanctions by the EU along with other Russian individuals, whom Brussels believe to be responsible for the secession of Crimea from Ukraine last year.
"We are extremely outraged with the unlawful blocking of a payment to RT in Great Britain," RT's editor-in-chief Margarita Simonyan said in a statement, adding that there are no legal grounds not to "transfer the money legally earned by RT."
In July, Kiselev's presence on EU's sanctions list hurt his own organization. Barclay's bank then froze a Rossiya Segodnya's account, with no formal notification or immediate justification for the move having been provided. A source in the British banking industry told the company that the freeze was related to the person heading it; Kiselev himself has called it "censorship."


You can share this story on social media: