Ukraine's Poroshenko says 'no Minsk-3' as Moscow hopes for ceasefire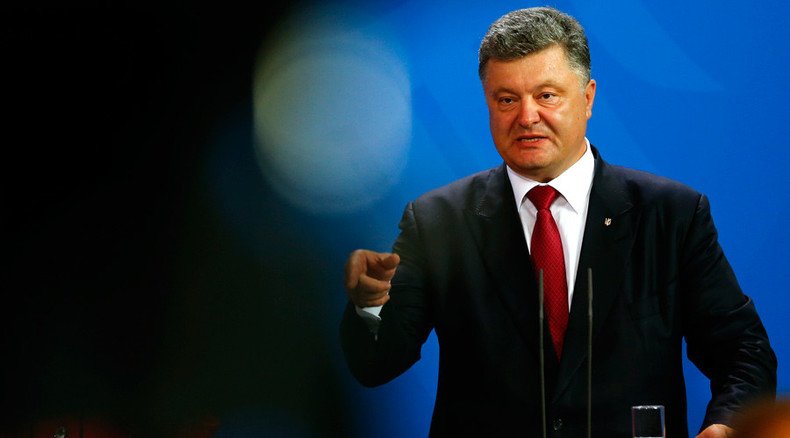 The possibility of a new peace deal agreement that could improve the situation in Eastern Ukraine is off the table, says Ukraine's president Petro Poroshenko, as a contact group meeting in Minsk ended with a proposal to ensure a stable ceasefire.
The existing peace deal is good enough and simply needs to be implemented, said Poroshenko at a press conference in Brussels accompanied by European Commission President Jean-Claude Juncker.
Мінська-3 не може існувати. Треба виконувати існуючі угоди. Сьогодішні зустрічі були присвячені в т.ч. невиконанню Росією узятих зобов'язань

— Петро Порошенко (@poroshenko) August 27, 2015
The Trilateral Contact Group for Ukraine came to agreement to end all military operations and ensure a ceasefire along the whole contact line by September 1 at a meeting in Minsk on Wednesday. The matter is especially important now with the new school year just around the corner.
READ MORE: Rebels, Kiev forces using heavy weapons at contact line – OSCE mission head in E. Ukraine
Information on the location of all educational facilities close to the contact line will be available to both sides, OSCE special envoy Martin Sajdik told journalists in Minsk. Moscow hailed the proposal.
"A very positive proposal to establish a real ceasefire by September 1 was put forward in Minsk. We would like to hope that this proposal will be implemented in practice. After all, we are talking about children," Russian Foreign Ministry spokesperson Maria Zakharova said on Thursday, TASS reports.
Poroshenko in his turn said there was no reason to wait until September 1.
"Who knows how many lives we will pay until ... September 1," he said, requesting an immediate halt in hostilities.
"We shall see if they will obey the ceasefire or not. We haven't been conducting warfare since February as we do observe Minsk agreement," said Eduard Basurin, General Staff Deputy Head of the self-proclamed Donetsk People's Republic.
The next meeting of the Contact Group and its working groups has been scheduled for September 8.
Poroshenko's statement comes a week after he told his troops in the Kharkov region that the Minsk agreement had given Ukraine time to rearm and build up its defenses.
"The Minsk agreement, despite all criticism, has given us time to build up Ukraine's defense. It allowed us to partially bridge the gap in military capacity we have against Russia," Ukraine's leader said at the time.
READ MORE: Poroshenko says Minsk agreement allowed Kiev military buildup
Kiev continues to accuse Russia of providing the rebel forces with weapons and secretly invading the Donetsk and Lugansk regions. Moscow, however, has persistently denied those accusations and claims to be doing everything it can to help Ukraine get over the crisis.
LISTEN MORE:
You can share this story on social media: