Poroshenko says Minsk agreement allowed Kiev military buildup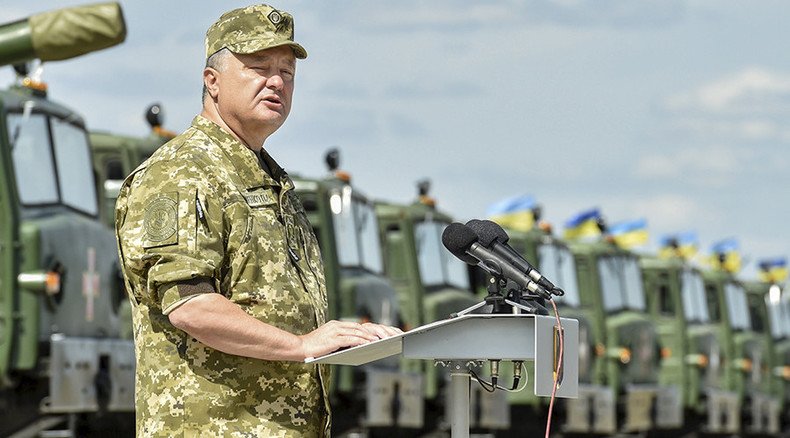 Ukraine has upgraded its army during the ceasefire with the rebels, Ukraine's president said addressing his troops. The rebels suspect that Kiev is planning a widescale offensive operation.
Petro Poroshenko delivered his belligerent speech in the Kharkov region, rejecting criticism of the ceasefire deal with rebel forces in the east, brokered in Minsk by Germany, France and Russia in February.
"The Minsk agreement despite all criticism has given us time to build up Ukraine's defense. It allowed us to partially bridge the gap in military capacity we have against Russia," Ukraine's leader said. "The times of airheaded pacifism and shortsighted rejection of security issues are forever in the past now."
Kiev accuses Russia of secretly invading Ukraine's eastern Donetsk and Lugansk regions and supplying the rebel forces with advanced weapons. It claims its military crackdown on the rebels is actually an undeclared war against Russia and that only the Ukrainian army is standing as a bulwark against a Russian invasion of Europe.
Moscow has repeatedly denied the allegations, saying that those Russian citizens fighting for the rebels are doing it of their own volition, and that Russia has never sent any weapons to the rebels.
READ MORE: Russians & Ukrainians not brothers, Ukrainian president claims
In his speech, Poroshenko said Ukrainians should prepare for years of war effort.
"The military threat from the east is a prospect for decades to come. This threat will not pass anytime soon and every new generation has to have army training," Poroshenko claimed, adding that the latest wave of mobilization, the sixth since military action in the east started, would not be the last.
The Ukrainian president pledged that hundreds of tanks and armored vehicles, thousands of rockets and artillery shells would be delivered to the Ukrainian armed forces before the year's end. He added that foreign sponsors have been assisting Kiev's fight.
"As part of the international aid in the framework of our coordination with an international coalition, created by the Ukrainian state and Ukrainian diplomacy to support Ukraine, we have received some 500 vehicles from our foreign partners," he said.
It was not immediately clear what coalition Poroshenko was referring to, since none has officially been declared. Kiev's foreign sponsors in Washington and Brussels have been reluctant to provide lethal aid to the country, a fact that has disappointed Ukrainian officials.
The US delivered 130 Humvee armored vehicles to Ukraine with another 100 promised, while the UK sent 55 old Saxon armored vehicles under a contract signed by President Viktor Yanukovich, who was ousted by an armed coup in February last year.
Poroshenko added that Ukraine may face rapid escalation of hostilities next week.
"We are not safe from a rapid escalation of military action, which is becoming more probable due to the celebration of Independence Day," he warned, referring to the national holiday to be marked on Monday.
The promise comes a week after several days of elevated tension in eastern Ukraine, during which the shaky ceasefire virtually collapsed. Starting on Monday last week, heavy artillery fire and firefights were reported along the disengagement lines in violation of a pledge to pull back all heavy weapons.
Kiev says its troops were responding to provocations by the rebels who accused the Ukrainian military of preparing a massive invasion of the rebel-held areas. The OSCE mission monitoring the situation reports numerous violations of the pullout deal by both parties.
Moscow believes the Ukrainian president persists in his war rhetoric because he is unable to pursue peace.
Porhoshenko "is concerned about stirring up Russophobia in the West and drawing attention away from his inability to deliver on the promises he signed up to," Russian Foreign Minister Sergey Lavrov said this month after the Ukrainian president told an Austrian newspaper that Russia wants to attack Finland and the Baltic States.
The crisis in Ukraine is to be discussed on Monday by Poroshenko, German Chancellor Angela Merkel and French President Francois Hollande in Berlin, where the Ukrainian president is going, cutting short Independence Day celebrations in Kiev.
You can share this story on social media: