Merkel comes to slam xenophobia, gets booed by protesters (VIDEO)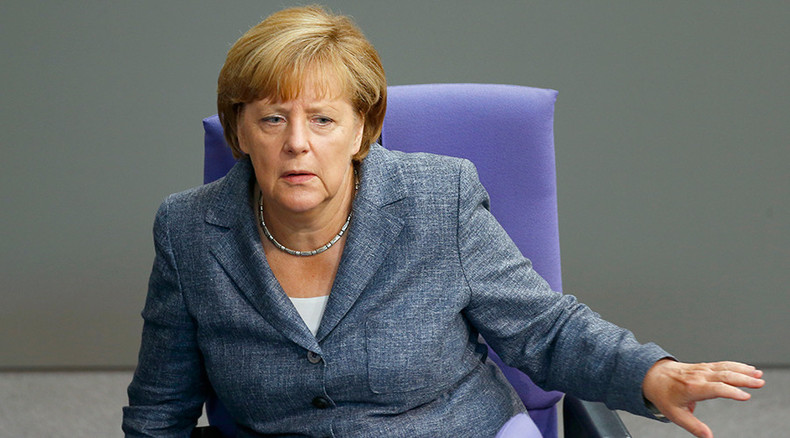 Anti-immigrant protesters jeered German Chancellor Angela Merkel, who was visiting a camp for asylum seekers that was the scene of violent protests last weekend. Merkel promised there would be no tolerance for xenophobes.
Far-right protesters shouted at Angela Merkel and held signs saying "Volksverräterin" ("traitor") as the Chancellor made her way towards a refugee center in the town of Heidenau, southeast of Dresden, where anti-immigrant clashes flared up at the weekend, leaving 31 police officers injured. Merkel branded the incidents "shameful and repulsive".
Different estimates put the number of protesters anywhere from 50 to 200.
Protesters also honked car horns as they passed the Chancellor while she was making her speech, Deutsche Welle reports.
"There is no tolerance for those people who question the dignity of others, no tolerance for those who are not willing to help where legal and human help is required," Merkel said, according to Reuters.
Merkel was accompanied by Saxony's state premier, Stanislaw Tillich, and the town's mayor, Jürgen Opitz during the visit.
"Everyone facing political persecution or fleeing civil war has the right to be treated fairly when seeking asylum," Merkel told the refugees currently living at the camp.
Part of the local population, which is utterly discontent with the way government is dealing with the problem, has been carrying out daily attacks on asylum shelters amidst increased hostility towards foreigners.
In recent incidents, there was an attempt to set fire to an asylum in Leipzig that fortunately turned out to be empty, and two men armed with knives were detained after breaking into another refugee center in the town of Parchim.
READ MORE: 'Merkel stays silent': Twitter mocks German chancellor for not speaking out over attacks on refugees
Due to its rather flexible asylum laws, Germany has absorbed the lion's share of an unprecedented influx of refugees from Syria, Iraq and other countries. Germany has announced that it intends to take in 800,000 immigrants this year, which is equivalent to almost 1 percent of its total population.
Merkel promised to introduce new guidelines that would allow refugees coming from Syria to stay in Germany regardless of which EU country they had originally entered.
As of now, migrants have to request asylum in the EU country they first reach, but this rule is facing growing criticism from politicians.
LISTEN MORE:
You can share this story on social media: