Bulgaria to stage military drills near Macedonian border amid worsening refugee crisis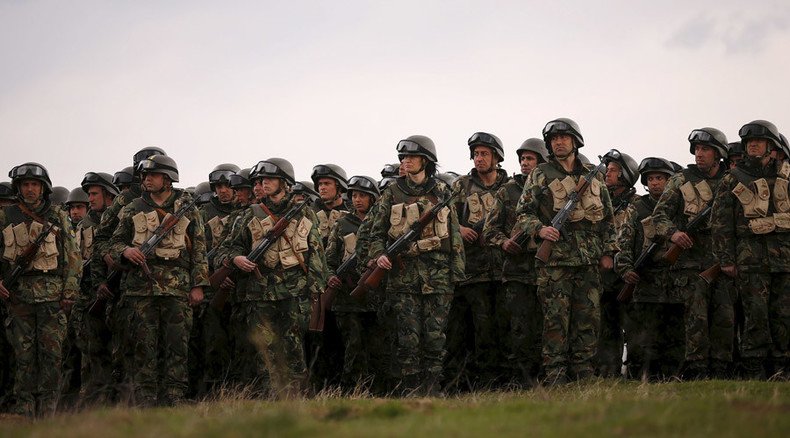 Bulgaria will stage military drills near the Macedonian border as a "preventative" measure, the nation's defense ministry says. It comes as the country's neighbors face an influx of migrants trying to make their way to the EU's borderless Schengen zone.
"The situation in the neighboring states of Macedonia, Greece and Serbia is quite complicated and we have to react preventively," Defense Ministry chief of staff Valeria Kardashevska told Reuters.
She added that Bulgaria has "already sent 25 troops and the relevant equipment and we are ready to increase the number of troops if necessary," and that the ministry is "in constant contact with the border police."
Karashevska stressed that the drills are "preventative" in nature, and that the troops will be there to support border police if needed.
Meanwhile, the Interior Ministry said that border police helicopters have been conducting flights above the Bulgarian-Macedonian border and sections of the border with Greece.
It comes as Bulgaria's neighbors – primarily Greece, Macedonia, Serbia and Hungary – face an influx of refugees from Syria, Afghanistan and other Middle Eastern states. The goal for many of the refugees is to reach Hungary, where they can the European Union's borderless Schengen zone.
Bulgaria has also been facing its own surge in refugees crossing from Turkey, with 25,000 people applying for asylum in the past two years, according to official data. In response, the country has strengthened its border police, installed cameras and motion censors, and is extending a security fence that will cover 160 km of its border with Turkey.
Hungry seeks more EU funds
Hungary is requesting more European Union funds to tackle the influx of people fleeing war and extreme poverty, with the prime minister's chief of staff telling Magyar Hirlap newspaper that more cash is needed – and claiming that what has already been doled out was done in a humiliating way.
"The European Union distributes border protection funds in a humiliating way. Old member states have nicked the money from new members," Janos Lazar said.
"If we do not take meaningful steps, we will become a rescue boat that sinks beneath the weight of those clinging onto it," he added, in an apparent reference to the hundreds of refugees who have died trying to reach Europe on overcrowded boats through the Mediterranean.
The statement came a day after European Commission President Jean-Claude Juncker criticized squabbling EU governments for "finger-pointing" instead of confronting the migrant crisis with viable measures.
The European Commission has so far pledged just under 8 million euros ($9.1 million) in aid and other various measures to Hungary.
Hungary is also erecting a 3.5-meter-high fence along its border with Serbia in an attempt to deter migrants from crossing onto its territory. It aims to complete the barrier by November. Budapest has also vowed to deploy thousands of police to the border, and plans to tighten penalties for illegal migration and trafficking.
The country has registered over 100,000 refugees as migrants so far this year, compared to 43,000 in all of 2014.
More refugees expected in Macedonia
The United Nations refugee agency said on Tuesday that up to 3,000 refugees and migrants are expected to cross into Macedonia every day in the coming months.
"We do not see any end to the influx of people in coming months," Melissa Fleming, chief spokeswoman of the UN High Commissioner for Refugees (UNHCR), told a news briefing in Geneva on Tuesday. She cited ongoing violence in Iraq and Syria, as well as "worsening conditions" for Syrian refugees in Turkey, Jordan and Lebanon.
She stressed that the 28 EU members states must ensure "equitable distribution" of people seeking asylum, adding that "we honestly believe if correct measures are taken, this is something that Europe can handle."
Macedonia declared a state of emergency on its southern and northern borders last week. One day later, police fired teargas at people crossing into the country. On Sunday afternoon, officers used stun grenades as thousands of people entered from the Greek border. However, they were unable to prevent the massive influx.
From Macedonia, the refugees aim to get to Serbia, which is one step closer to Hungary and the Schengen zone. From there, they can travel to more prosperous western and northern European countries.
More than 7,000 refugees have crossed into Serbia from Macedonia since Friday, according to the UN. A total of 90,000 people have entered Serbia so far this year – 23,000 of them over the past two weeks.
Anti-migrant sentiment
Meanwhile, tension is mounting in Germany and Sweden following the influx of refugees and migrants.
Several attacks have been reported around Stockholm, with some refugees being attacked with acid, Sky News reported. Others have had their tents and caravans set on fire.
Far-right protests have taken place outside a refugee shelter near Dresden, Germany. Neo-Nazi groups threw fireworks and bottles as police escorted people seeking asylum into the building. Dozens of officers were injured during the demonstrations, which were condemned by the spokesman for German Chancellor Angela Merkel.

More refugees seek asylum in Germany than any other European country. The government expects 800,000 people to apply for asylum by the end of this year.
You can share this story on social media: