Flying bird: Russia's amphibious Chirok prototype debuts at MAKS-2015 air show
Russia has unveiled a full-size prototype of its lightweight, amphibious Chirok, capable of manned and unmanned flight, at the MAKS-2015 air show near Moscow. Able to take off and land most anywhere, the air-cushioned aircraft is much in demand.
The aircraft is made of carbon fiber composite material, with a wingspan of 10 meters and maximum takeoff weight of 750 kilograms. The Chirok can lift over 300 kilograms of payload (fuel excluded), and reach a declared flight ceiling of 6,000 meters. Its maximum flight range is expected to be 2,500 km on a single fueling.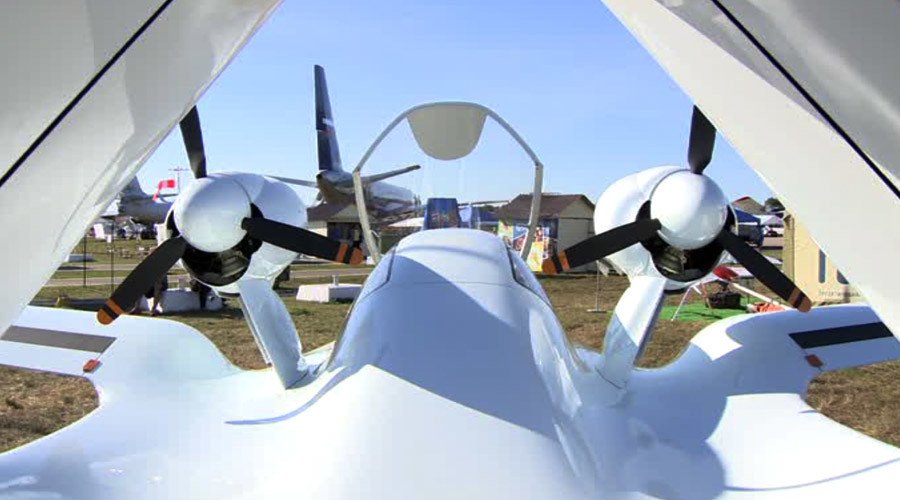 All the Chirok needs to get going is a hard surface measuring mere 25 by 25 meters. Once its air cushion is inflated, it can overcome obstacles 30 centimeters high or holes 50 centimeters deep.
Chirok's air cushion is fully-retractable during flight. Rostech Corporation holds the patent for the fabric that the UAV's air cushion is made of.
READ MORE: Take off & land anywhere: Russia unveils hybrid amphibious drone vehicle (PHOTOS)
"Chirok is a unique aircraft that can land and take off from practically any flat surface," Rostec's Yury Nevzorov told RT.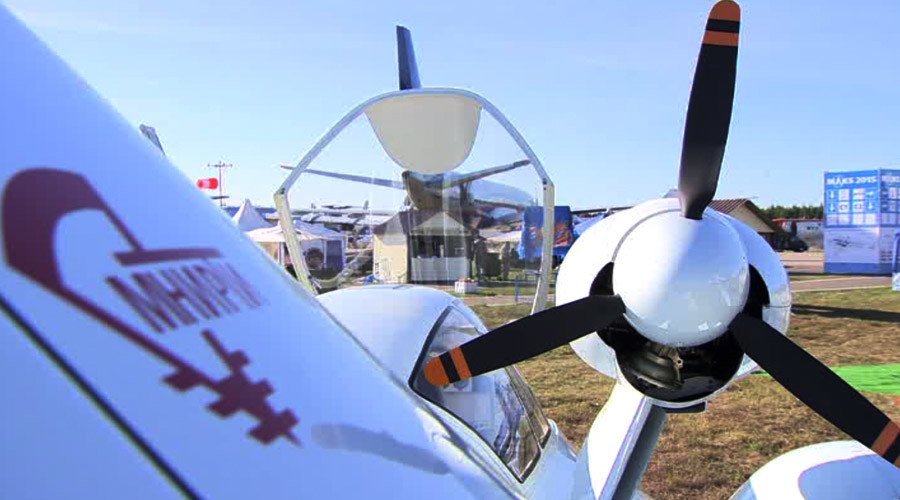 The Chirok will be produced in two versions: a manned aircraft and an unmanned drone. Unlike other aircraft and drones, it was designed as a dual-use drone and piloted aircraft from the beginning. According to Nevzorov, who heads the Moscow Research Radio Engineering Institute, a division of Rostec's United Instrument Corporation (UIC), Chirok has several specialized functions that make it unique.
The prototype Chirok (the Russian word for teal) presented at MAKS-2015 is currently undergoing flying tests that began in January. It is expected to perform some aerobatics next year at an amphibious air show in Russia's Black Sea port of Gelendzhik. Serial production may start as early as next year.
READ MORE: Russia readies hybrid amphibious drone for test flight
The civilian UAV version of Chirok could be used for conducting patrols, monitoring disaster areas and forest fires, delivering equipment to remote oil rigs and be used as unmanned air ambulance.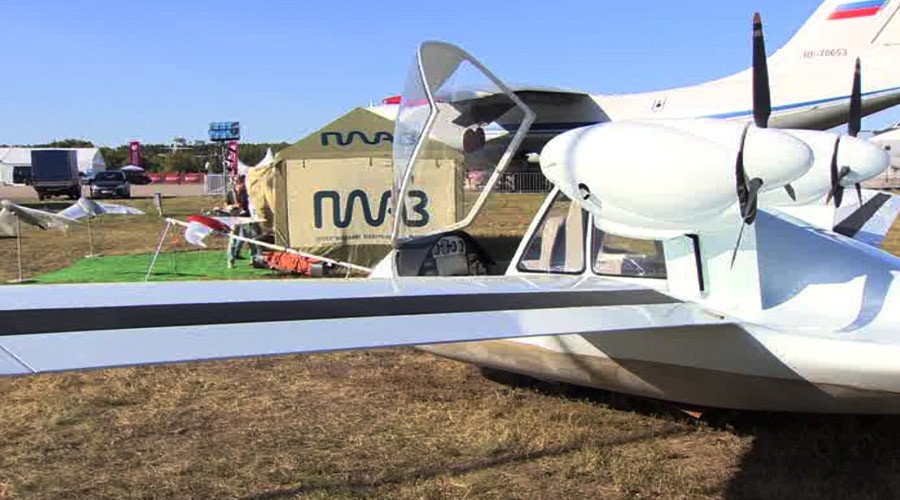 The aircraft's military version can be used for transportation, surveillance and reconnaissance, and even be transformed into an assault aircraft, with high-precision weapons, such as small-size guided missiles and guided bombs, sheathed inside its hull.
Yevgeny Sabadash, chief designer of the Chirok, said the initial concept for the aircraft was developed in the early 1990s. Amid economic problems for the former Soviet civil aviation industry, all work on the Chirok came to a standstill and was only revived in full a few years ago.
You can share this story on social media: