Take off & land anywhere: Russia unveils hybrid amphibious drone vehicle (PHOTOS)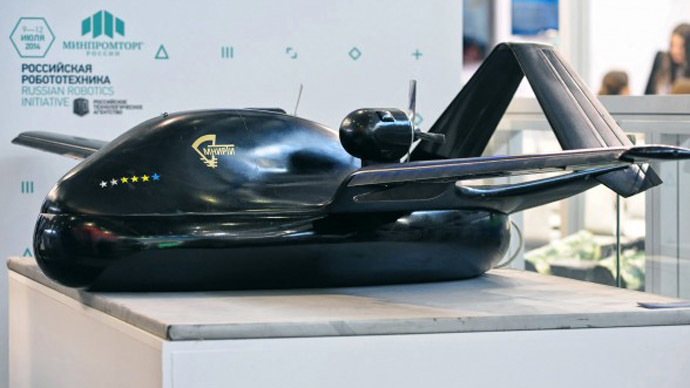 A drone hybridized with an amphibious hovercraft has been presented at the Innoprom-2014 technology exhibition in Russia's Yekaterinburg. This unique UAV doesn't need an airfield to launch, so the only alternative is a helicopter.
Russia's Rostech state corporation presented the first-ever drone that can land on any terrain, whether hummocky land, loose snow, sand, water, or swampland - any relatively flat surface will do.
The aircraft dubbed Chirok (Teal) is both an unmanned aerial and amphibious vehicle; it was developed by Rotech's branch, Integrated Instrument-making Corporation (IIC).
"There is only one alternative to this aircraft [Chirok] – a helicopter," Aleksey Smirnov, the head of the unmanned aerial vehicles department at Radio-Technical Institute, told the OTV channel.
The 1:5 Chirok prototype presented at the exhibition has been specifically made to test its aero performance in a wind tunnel.
In 2015, the full-scale Chirok aircraft will start flight tests. It will have a wingspan of 10 meters and have a maximum takeoff mass of approximately 700 kilograms, of which 300kg would be its effective payload.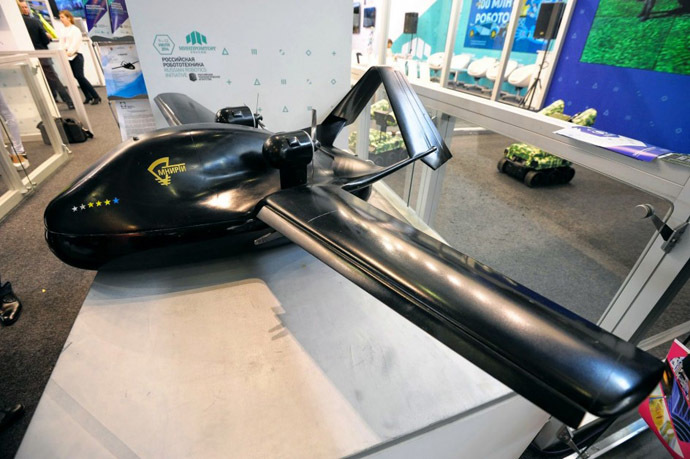 With 6,000 meters of altitude ceiling, the UAV is expected to travel up to 2,500 kilometers on a single fuelling. Information about the Chirok's propulsion is classified.
The 'aircraft-hovercraft' is made exclusively of composite materials, while the fabric of its air cushion was developed in Russia and is patented by the Rostech Corporation. The air cushion is fully retractable in flight mode.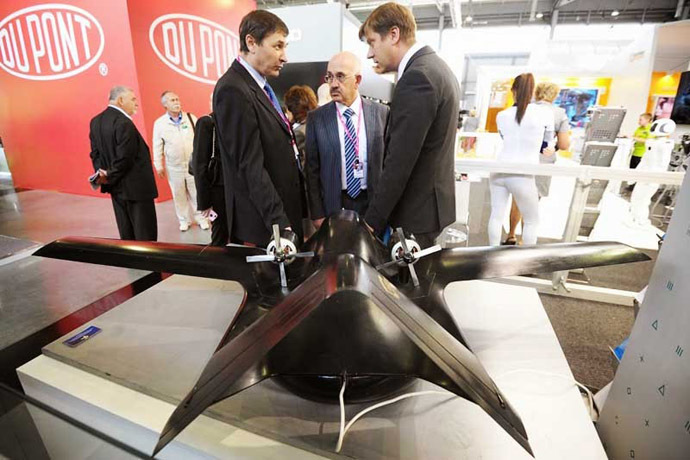 Though the drone will most likely be used for reconnaissance and wild fire monitoring missions, delivery of necessities to distant oil rigs etc., its construction also enables carrying assault military appliances.
The Chirok could be equipped with high precision weapons, such as small-size guided missiles. Unlike most existing UAVs, the Chirok has enough inner space to fit the weapons internally, so that under-wing missiles won't interfere with aerodynamics and landing. Because the aircraft is of moderate size and made of composites, it also has excellent stealth characteristics.
It is expected that at Moscow-hosted MAKS-2015 air show UAV Chirok will be presented as an operable prototype. Production of the aircraft could be started as early as 2016.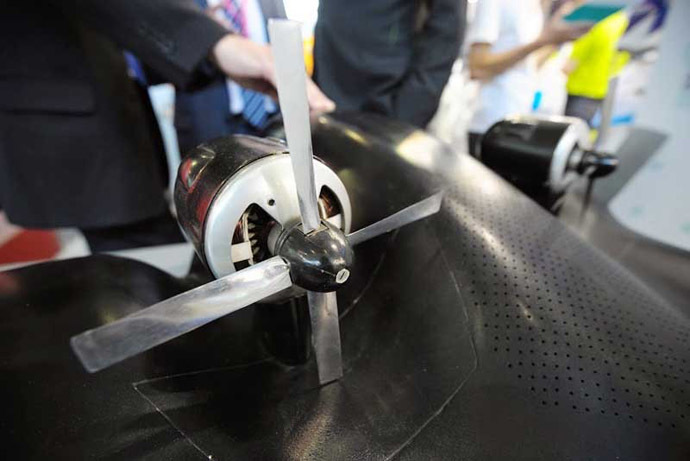 You can share this story on social media: