'Minsk peace deal on Ukraine must be respected' – Merkel after talks with Poroshenko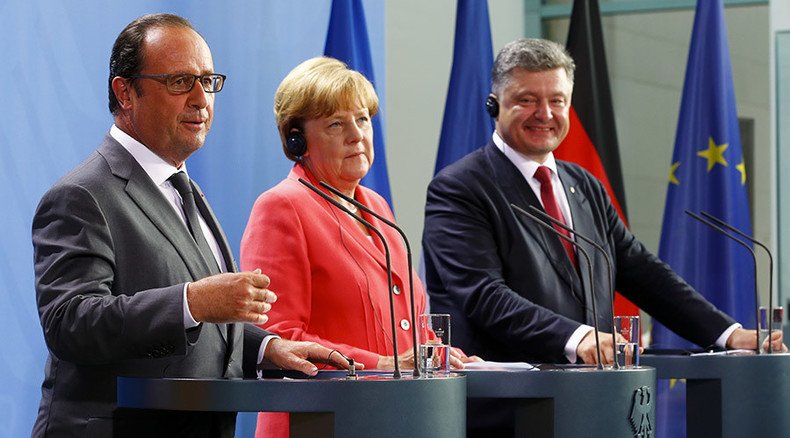 The terms of the Minsk ceasefire deal on eastern Ukraine cannot be called into question, German Chancellor Merkel said in Berlin after meeting with Ukrainian leader Poroshenko – just days after he said the "times of pacifism" were "over."
"The first and foremost condition is that everything is done to make the ceasefire agreement a reality. The task at hand means that what we agreed in Minsk has to be respected," Chancellor Angela Merkel told reporters on Monday, referring to the February peace plan based on an OSCE-brokered agreement between Kiev and self-proclaimed rebel republics in eastern Ukraine.
Merkel insisted that the Berlin meeting with Ukrainian President Petro Poroshenko and French President Francois Hollande had been called to help "implement the Minsk deal, not to call it into question."
The German leader said that Poroshenko has assured her of Kiev's commitment to withdrawing weaponry from the front line of the conflict – and a readiness to pull back weapons under 100mm in caliber. While the withdrawal of lighter weaponry was not outlined in the Minsk deal, eastern Ukrainian rebel forces unilaterally pulled back arms of less than 100mm caliber at the end of July, saying it was an act of good will in the hope that Kiev would follow suit.
According to Merkel, a broader arms withdrawal was recently discussed in a telephone conversation between the leaders of the 'Normandy Four' – France, Germany, Russia and Ukraine.
Both Kiev and the self-proclaimed Donetsk and Lugansk People's Republics have been blaming each other for frequent ceasefire violations, including the use of heavy weaponry that they had agreed to pull back under the Minsk Protocol. The OSCE monitoring mission has confirmed that both sides have violated the agreement. Shelling continues to hit parts of the densely populated city of Donetsk: in July, one person was killed and several others injured as Ukrainian forces shelled residential blocks and a city hospital. Overall, the conflict has claimed more than 6,700 lives since Kiev sent in the army in April of 2014 for what it called an "anti-terrorist operation."
Poroshenko 'sought backing for all-out war'?
However, it is the recent statements by Poroshenko that have been interpreted as signs of the imminent resumption of all-out war in the rebel-controlled areas. On Saturday, the Ukrainian leader bluntly stated that "the Minsk agreement despite all criticism has given us time to build up Ukraine's defense," adding that "the times of airheaded pacifism and shortsighted rejection of security issues are forever in the past now."
With Poroshenko's remarks coming on the eve of his meeting with Merkel and Hollande, Moscow reacted by saying it hoped that the European leaders would put pressure on Kiev to stick to the Minsk agreements. Russian Foreign Minister Sergey Lavrov said Merkel and Hollande, who signed the Minsk deal as guarantors, will have to save their own reputations and make sure that Ukraine does everything it has pledged to do to achieve peace.
READ MORE: Lavrov: Poroshenko pushes 'Russian aggression against Europe' barrow as smokescreen
According to political analyst Aleksandar Pavic, Poroshenko's visit most likely served as a public relations stunt amid serious domestic economic problems. It could also mean he is seeking to gain backing for a new military operation in eastern Ukraine.
"I think Petro Poroshenko is just trying to get additional public support for what he's being prepared to do, inside and outside Ukraine: a new push to resume war in Ukraine. So, I think he probably has the backing of his Western sponsors, and this is just something that needs to be more public… Obviously, the rhetoric that's coming out of Kiev is that Minsk, the Minsk agreements, are pretty much dead," Pavic told RT.
The analyst believes that one of the major problems forcing Poroshenko to seek more public support is the rampant corruption in post-coup "oligarchic-run" Ukraine – corruption that he has publically vowed to fight. Media reports, such as one published by the German agency dpa, suggested that fighting corruption in Ukraine was to be the focus of the agenda in Berlin.
"Nobody's serious about dealing with corruption in Ukraine. It's obvious after more than a year, a year and a half of the war, ever since the Maidan, that, if anything, Ukraine is even more corrupt than it was. It's now a place being run by the oligarchs, and it's a much less democratic place than it was," Pavic said, adding that the new Ukrainian authorities have only been consistent in their push for war in Donbass.
READ MORE: 'Ukraine Salvation Committee' is worthy proposal as state not functioning anyway
Calling Poroshenko's Saturday statement on the Minsk deal "scandalous," the analyst pointed to the lack of response coming from the West.
"In effect, he's saying that, "No, we weren't interested in peace when we were negotiating the Minsk agreement. We were just interested in buying time because we were losing the war, and now that we are rearmed, we're ready to resume the war." Western capitals haven't responded, and really needed to respond very negatively to Poroshenko's statements if they were serious about real peace in Ukraine and the Minsk agreement… They're actually encouraging Poroshenko to resume war," Pavic said.
You can share this story on social media: