1,000 Russian troops & 2 assault landing ships hone military maneuvers in Arctic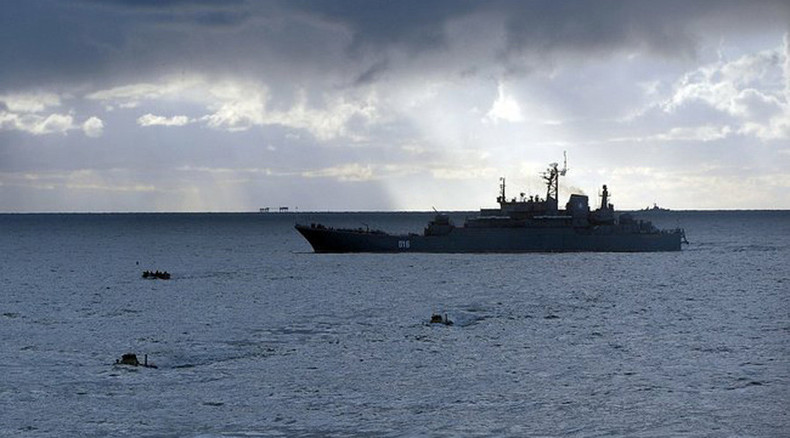 Two large Russian landing ships have arrived in the Arctic to take part in naval drills. The goal of the exercise is to mimic the defense of an industrial facility.
"Large landing ships, the "Saint George" and "Kondopoga", of the Northern Fleet have arrived in the port of Dudinka and unloaded Arctic brigade personnel and equipment, which will take part in various tactical maneuvers aimed at the defense of a strategic industrial facility in the Arctic," said Captain Vadim Serga, head of the Navy press service, as cited by RIA Novosti.
Dudinka is a port on the Yenisei River near the Russian Arctic.
The aim of the maneuvers is to improve cooperation between different services and branches of the armed forces, and to check combat readiness of staff and equipment in the Arctic region.
"Thirty-one units of military equipment including all-terrain fully-tracked amphibious snow and swamp-going vehicles… and multi-purpose trucks have been brought ashore," he added.
The landing involved the ships coming as close as possible to the shore, so that personnel and vehicles had direct access to the beach.
The ships reportedly accomplished their task without a hitch, and are now docked in Dudinka port awaiting further orders.
It's the first Russian maneuver aimed at rehearsing the defense of an industrial facility. More than 1,000 troops as wells as 14 aircraft and 34 units of military equipment are participating in the drills, which started on Monday.
READ MORE: Russian security chief urges stronger anti-terror defense for Arctic
Russian officials at all levels have emphasized the priority of the Arctic in the latest economic and defense programs. In 2014, President Vladimir Putin announced Russia was creating a united fleet of new generation combat ships and submarines to be permanently deployed in the Arctic.
In June, Prime Minister Dmitry Medvedev signed an order for the development of the Northern Sea Route, aiming to increase its capacity from the current 4 million to 80 million tons in the next 15 years.