Drone footage of secret Soviet space spying center turned telescope in Latvia (VIDEO)
A newly refurbished Soviet parabolic dish deployed in Latvia, once used to intercept data from Western intelligence satellites and eavesdrop on secret NATO communications in Europe, has been photographed with a drone camera.
It is now home to a new radio telescope established by the Latvian Ventspils International Radio Astronomy Centre (VIRAC).
In the late 1960s, a secret intelligence center equipped with unique antennas and electronics was secretly installed in the westernmost forest of the Soviet republic of Latvia, at the tiny Irbene settlement some 40 kilometers from the city of Ventspils. The goal was to intercept signals from US military and intelligence satellites.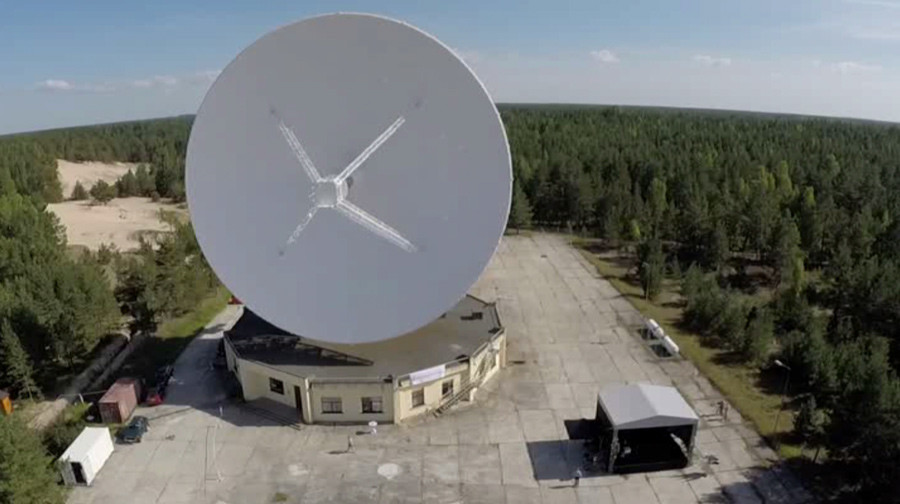 The center became part of a global Zvezda (Star) system consisting of 11 radio electronics warfare stations, four of which were deployed abroad: in Burma (today's Myanmar), Cuba, Mongolia and Vietnam.
The Irbene spy complex was equipped with three large receiving parabolic antennas and also a small antenna. The deciphering and storing of intercepted data was organized in a number of buildings, staffed by large numbers of officers from various Soviet intelligence services.
At the peak of operations, the population at Irbene exceeded 2,000 officers and members of their families. The potential of Irbene's antennas and electronics when it was operable are still a matter of national security and kept top secret. Apart from tracking signals from most American and other NATO member states' satellites in the Northern hemisphere, it was rumored to intercept communications of NATO submarine bases as far as in Norway.
The Americans didn't learn about the complex until about 1980, when their satellite spotted the Irbene complex by chance.
The complex's operations were discontinued in 1992, the year after Latvia became independent. Russian engineers allegedly dismantled all electronics and other equipment, deliberately damaging most of the station's communication and power cables, after which Russian military intelligence quitted the base. One antennae called Uranus was brought back to Russia; the remaining two huge dishes were sabotaged.
The Americans soon arrived on the scene to evaluate Irbene's past capabilities. They were impressed by the scale of the installation and nonplussed by the deliberate damage inflicted.
Initially, the new Latvian authorities intended to blow the complex up, but it was later passed to the Latvian Academy of Science, which founded the Ventspils International Radio Astronomy Centre (VIRAC) there.
On June 10, 2015, a renovated and repainted 32-meter antenna (RT-32) was mounted on a 25-meter tower to become a radio telescope for scientific purposes. When fully operational, it will be the largest radio telescope in northern Europe and the world's eighth largest.
Once VIRAC has been refurbished, it will take part in a number of international programs. RT-32 will be used for detection, analysis and processing of satellite images and satellite navigation signals. It will also carry out research into the sun's microwave range, and detect and monitor space trash. As part of the European VLBI (Very Large Base Interferometry) Network, it will also be engaged in the search for signs of intelligent life beyond our solar system.
You can share this story on social media: