Thousands rally in Japan against controversial overseas military deployment bill (PHOTOS)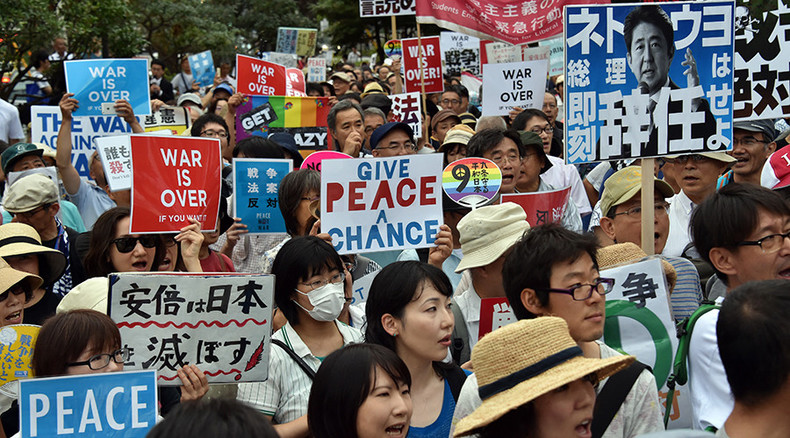 Thousands of Japan's youth held demonstrations all over the country as they protested against a bill, pre-approved by the parliament, which broadened the mandate of Japan's self-defense forces and allowed the military to take part in foreign operations.
Mass protests took place in almost 60 Japanese cities, including Kyoto, Osaka, and Tokyo as well as in Hokkaido, Aichi, Fukuoka and other prefectures, Japan's Kyodo news agency reported. The number of protesters participating in a rally in Tokyo's Shibuya district, popular with young people, amounted to over 6,000.
The demonstrators were carrying banners and placards with anti-war slogans and chanted "no to war!" "prevent the changes in the constitution!" Placards read "the war is over," "peace not war," "give peace a chance!" and "yes to peace!"
READ MORE: 'US turning blind eye to danger of rearming Japan'

During the demonstration in Ryukyu, protesters chanted "we do not want the war!" and "let's change Japan from Okinawa!"
Rallies were primarily organized by different student and youth organizations including the Students Emergency Action for Liberal Democracy.
The bill, which caused a continuous wave of public indignation all over Japan, was pre-approved by the lower house of the country's parliament in July and contained a set of amendments to defense legislation. It allowed Japanese Self-Defense forces to be deployed abroad in order to "protect the allying countries" for the first time since the World War II.
READ MORE: Japan's parliament panel greenlights military deployment law

The bill potentially allows the Japanese military to take part in foreign operations, even if Japan is not directly threatened. Additionally, it lifted some restrictions on Japanese participation in UN missions as well as allowed Self-Defense forces to lend logistic support to the US and other "friendly nations' forces" without identifying the countries considered to be Japanese allies.
Japanese citizens have consistently opposed the bill from the very beginning. In July, according to a poll by Asahi Shimbun daily, 56 percent of respondents were against the military policy, while only 26 percent supported it.
The latest poll conducted by the Kyodo news agency suggested that the even more Japanese now oppose the bill with almost 70 percent being against it receiving final approval. The number of bill supporters decreased by 2 percent to 24 percent.
More than 73 percent of Japanese citizens were also displeased with the fact that the bill was pre-approved in the absence of some key opposition MPs, who boycotted the voting in protest.
LISTEN MORE:
You can share this story on social media: