50 civilians reported killed in Douma after Syrian army rocket attack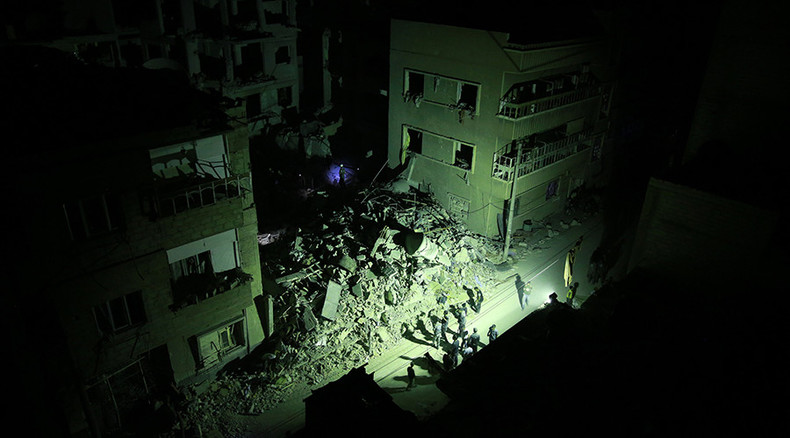 A Syrian army rocket attack on the rebel-held city of Douma reportedly killed at least 50 civilians.
The attack on Saturday hit several residential building in the city located about 15km northeast of Damascus. Rescue workers recovered 52 bodies from the rubble, identifying 20 of them, Reuters reported. The death toll is expected to rise as the recovery works continue.
"There are entire families still under the rubble. We couldn't reach them yet, because as you know the process of removing debris must be done with extreme caution," an official, from a civil defense group operating in rebel-held areas, told the Majd agency.
READ MORE: UN warns Syrian airstrike in Douma may amount to war crime, Damascus slams criticism
The attack comes almost a week after last Sunday's airstrike on a marketplace in Douma, in which at least 111 people were reported killed. The Syrian government said it was targeting the rebel Islam Army group, which was responsible for a series of mortar attacks on government-controlled areas of Damascus. It denied accusations that it deliberately targeted civilians.
The war in Syria has been dragging on since 2011 and has claimed at least 250,000 lives. Millions have fled the violence, triggering refugee crises in neighboring countries such as Turkey and Jordan, as well as in Europe.
As the violence escalated, some countries such as the US, European nations and Turkey supported rebel forces in Syria, claiming that the only way to stop bloodshed is for Syrian President Bashar Assad to step down and hand over power to a West-approved transitional government.
The chaos, however, brought more radical rebel groups into the fray, such as the Al-Qaeda affiliate, the Al-Nusra Front and Islamic State (IS, formerly ISIS/ISIL). The US is now leading an international coalition against IS, which has used Syria as a staging post to take over large parts of neighboring Iraq from the US-trained Iraqi army.
Washington continues its calls for Assad to go, even though it's feared a collapse of the government in Damascus would create a power vacuum for radical Islamists to take advantage of. The US authorized airstrikes against Syrian troops, to protect rebel forces the US considers moderate. There have been no reports of actual engagement so far.
You can share this story on social media: