UN warns Syrian airstrike in Douma may amount to war crime, Damascus slams criticism
The UN has warned that a Syrian forces' airstrike in the Damascus suburb of Douma which killed over 100 people on Sunday may amount to a war crime. Meanwhile, the Syrian government slammed criticism from the UN envoy, accusing him of "abandoning impartiality."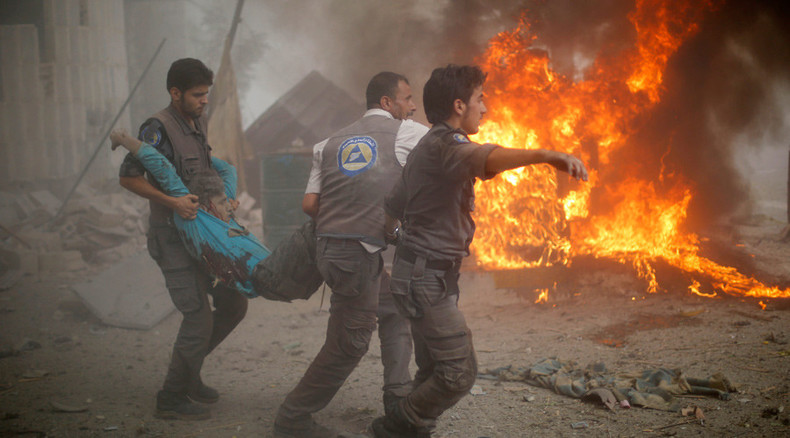 "Any intentional direct attack against civilians or civilian objects as well as the use of indiscriminate weapons in densely populated areas are serious violations of international humanitarian law and international human rights law and may amount to a war crime," Rupert Colville, spokesman for the UN High Commissioner for Human Rights, said in a press conference in Geneva on Tuesday.
He said that at least 111 civilians were reportedly been killed and at least 200 others were injured in the "outrageous" bombing of a busy market place in the center of Douma, in the Eastern Ghouta region of rural Damascus.
The Syrian government on Tuesday blasted UN special envoy for Syria Staffan de Mistura for his criticism of the Sunday air attack. It accused him of abandoning "impartiality" and stated that his remarks were "biased and based on the inaccurate information spread by Syria's enemies."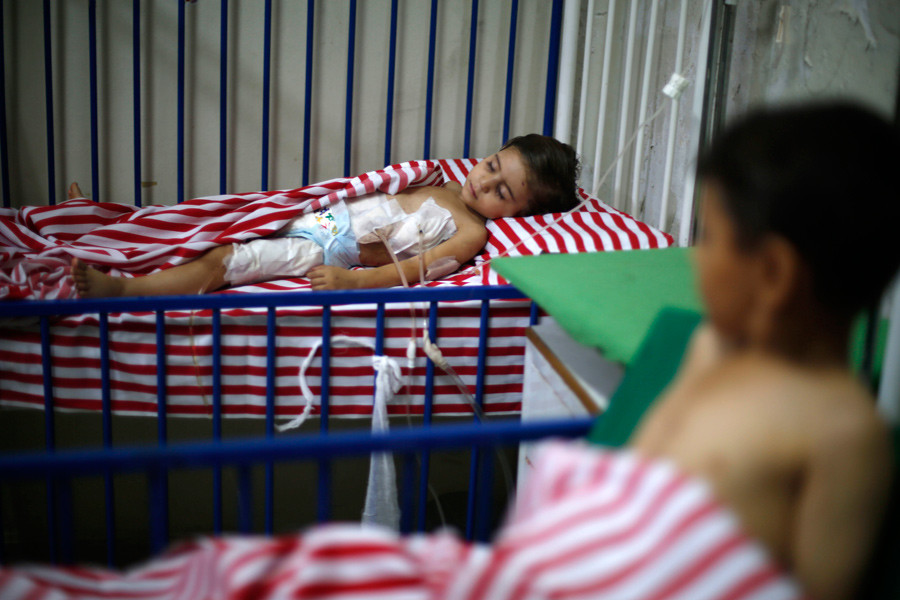 This comes after the UN Security Council backed a new Syria peace deal, which will aim to try and bring an end to the civil war, which has already entered its fifth year.
The five permanent members of the Security Council, composed of China, France, Russia, the United Kingdom and the United States, said Monday they would back plans by Staffan de Mistura, the UN envoy for Syria.
De Mistura offered a proposal three weeks ago that would work towards "political negotiations and a political transition," which would be based on the Geneva Communique – a roadmap adopted by world powers in June 2015. It called for a political transition, but did not find a consensus concerning the fate of Syrian President Bashar Assad.
"Four thematic areas need to be addressed through more focused consultations and discussions with the Syrian parties in four thematic working groups: safety and protection for all; political and legal issues; military, security and counterterrorism issues; and continuity of public services and reconstruction and development," the UN stated on the organization's website.
Despite Washington and Moscow finding common ground on Syria, Russia's Foreign Minister Sergey Lavrov said the country's position regarding its support for President Assad and the need for the Syrian population to decide their own fate had not changed.
"Whereas some of our partners believe that the parties need to agree ahead of time that al-Assad will step down at the end of the transitional period, Russia does not accept this approach, and openly says so. It's up to the Syrian people to decide," Lavrov said in a statement, which was published on the Foreign Ministry's website on Monday, following talks with his Iranian counterpart, Javad Zarif in Moscow.
#Lavrov: Agreeing in advance that Assad will leave at the end of a transitional period is unacceptable to Russia

— MFA Russia (@mfa_russia) August 17, 2015
Russia's top diplomat also expressed the need for the Syrian government and the delegation representing all of the groups that oppose it to sit down and hold talks, adding that it any decisions must be based on "the mutual consent of the government and its opponents."
Washington renewed calls for President Assad to step down following the market bombing in Douma adding that this was "just another reminder of the inhumane acts perpetrated daily by the Assad regime against the Syrian people."
"These abhorrent actions underscore that the Assad regime has lost legitimacy and that the international community must do more to enable a genuine political transition," National Security Council spokesperson Ned Price said, as cited by Reuters.
Syrian government forces targeted a rebel-held district on Sunday killing at least 96 people in an air strike on a market, the Syrian Observatory for Human Rights said. The attack on Douma, which is 15 kilometers northeast of Damascus, was one of the bloodiest in the conflict.
A Syrian military source told Reuters the air force attacks on Douma and the nearby area of Harasta were targeting an insurgent group, Islam Army, and were a response to recent attacks on nearby government-held areas.
De Mistura condemned that attacks in Douma saying, "Hitting crowded civilian markets killing almost one hundred of its own citizens by a government is unacceptable in any circumstances."
However, he also condemned attacks by rebel forces on the Syrian capital, which preceded the bombing of the market.
"The indiscriminate shelling of Damascus last week by armed opposition groups and the cutting of water supplies, all measures which affect civilians and are also unacceptable," the UN envoy for Syria said, as cited by Reuters.
You can share this story on social media: