India-Pakistan peace talks cancelled hours before scheduled start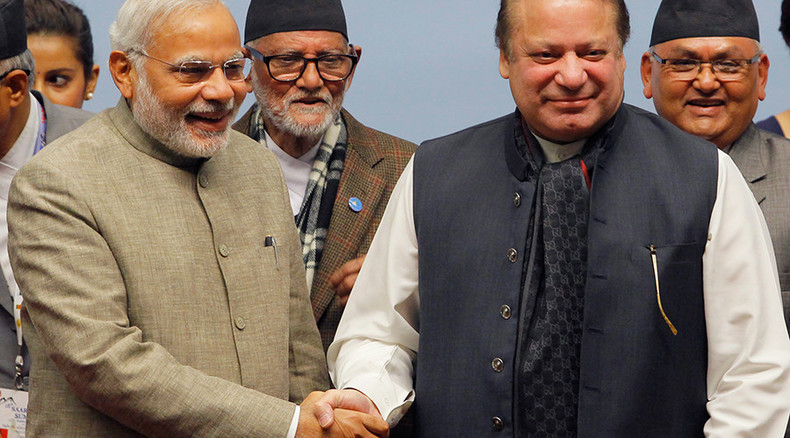 Peace talks between India and Pakistan have been cancelled hours before they were due to start on Sunday, with Pakistani officials accusing India of setting preconditions.
The talks were scheduled to take place in New Delhi on August 23-24. Pakistan wanted the negotiations to concentrate on the Kashmir area, disputed by both countries. India, however, wanted to concentrate solely on terrorist issues and keeping peace on the Line of Control, the de-facto border between the two countries in Kashmir and Jammu state.
"Pakistan reiterates that the scheduled NSA [National Security Advisers] level talks cannot be held on the basis of the preconditions set by India," the Pakistani Foreign Ministry said in a statement.
READ MORE: India warns ISIS could get nukes from Pakistan
Islamabad said it was "unreasonable for New Delhi to now assume the right to decide unilaterally that from now onwards other issues will be discussed after terrorism has been discussed and eliminated."
READ MORE: India successfully test-fires long-range interceptor missile
Pakistan's decision is unfortunate. India did not set any preconditions.

— Vikas Swarup (@MEAIndia) August 22, 2015
"We have come to the conclusion that the proposed NSA level talks between the two countries would not serve any purpose, if conducted on the basis of the two conditions laid down by the minister [Indian Minister for External Affairs Sushma Sawaraj]."
In the meantime, the Indian Foreign Ministry spokesman wrote on Twitter that Pakistan's decision is "unfortunate" and that India didn't have any "preconditions."
We only reiterated that Pakistan respect the spirit of the Simla & Ufa Agreements to which it was already committed.

— Vikas Swarup (@MEAIndia) August 22, 2015
Swaraj said there won't be any negotiations if Pakistan's National Security Advisor Sartaj Aziz did not abandon plans to meet Kashmiri separatists.
Indian-Pakistani relations have been tense due to a number of historical and political events, including the partition of British India in 1947 and the ensuing conflict in Kashmir. They fought three wars over the region, which is claimed by both countries. Thousands of people died during the confrontations.