India warns ISIS could get nukes from Pakistan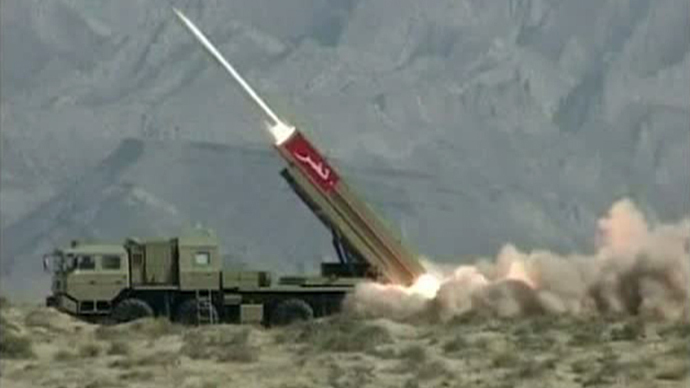 India is concerned that Islamic State militants (IS, formerly ISIS/ISIL) could get their hands on a nuclear weapon from its regional foe and fellow nuclear power Pakistan.
Indian Defense Minister Rao Inderjit voiced the concerns at the sidelines of the Shangri-La regional security conference in Singapore on Saturday.
"With the rise of ISIS in West Asia, one is afraid to an extent that perhaps they might get access to a nuclear arsenal from states like Pakistan," he said, as cited by Bloomberg.
Earlier this month, IS said in its propaganda magazine Dabiq it could obtain a nuke from "states like Pakistan."
"The Islamic State has billions of dollars in the bank, so they call on their wilāyah [official] in Pakistan to purchase a nuclear device through weapons dealers with links to corrupt officials in the region," the article read.
Although even the article says the scenario is "far-fetched" and political analysts regard the possibility as unlikely.
Pakistan as well as India rank poorly in terms of nuclear security. According to the Nuclear Threat Initiative (NTI) nuclear materials security index, out of 25 countries Pakistan comes 22nd while India is 23rd.
READ MORE: Nukes within a year? ISIS magazine boasts they can be bought in Pakistan
Terrorism, the majority driven by Islamic extremism, has killed more than 55,000 people in Pakistan since 2001, which has given rise to concerns about the security of its nuclear arsenal.
Pakistan is also one of the few countries that is increasing its nuclear arsenal. US think tank the Council on Foreign Relations believes it has 100-120 warheads compared to India's 90-100 and is developing a nuclear submarine capable of carrying nuclear missiles.
The Pakistani nuclear program began in the early 1970s in response to India developing its own atomic weapons, and in 1998 they successfully tested five nuclear devices becoming the seventh nuclear power in the world.