3 US contractors among 12 killed in car bombing targeting foreign convoy in Kabul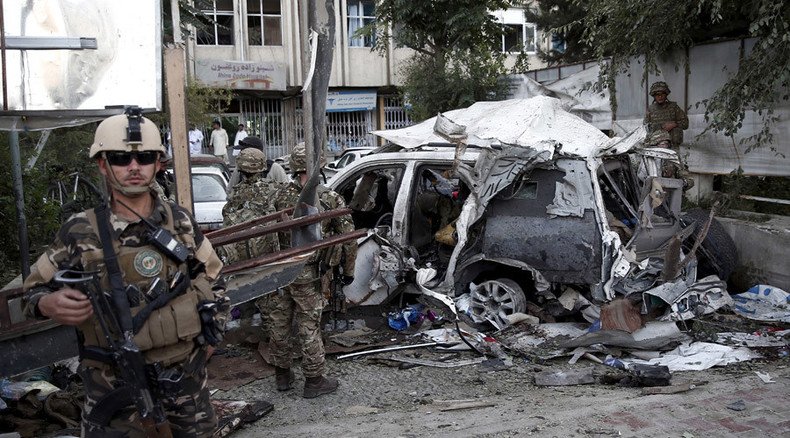 At least 12 people including 3 American contractors were killed and 66 injured in a car bomb explosion, believed to be a suicide bomb attack targeting a civilian NATO contractors' convoy, in the diplomatic quarter of Afghanistan's capital, Kabul.
"Twelve dead bodies and 66 wounded people were taken to several Kabul hospitals," health official Kabir Amiry said. "Some were in a bad condition."
The bomb detonated near the city's private Shinozada hospital. There were three foreigners among the dead, Afghanistan's Health Ministry said. The wounded included six women and five children.
The scene of the attack is also located close to the US embassy and International Security Assistance Force (ISAF) headquarters, which triggered an alarm immediately after the explosion.
"There has been an explosion in the 4th Macroyan residential neighborhood of Kabul city," Fraidoon Obaidi, the head of Kabul's Criminal Investigation Department, told AFP. "We are investigating the nature of the bombing."
READ MORE: Al-Qaeda 'pledges allegiance' to embattled new Taliban leader

NATO-led Resolute Support mission officials have confirmed that three people killed in the blast were foreign contract workers, although no details about their identities or nationalities have been disclosed so far, Afghan Tolo News reported.
"One Resolute Support contracted civilian was killed in the attack and two others died of wounds," said Brian Tribus, a spokesman for the US-led NATO mission known as Resolute Support.
Later, NATO officials confirmed that the killed contractors were Americans, as reported by the Associated Press.
It added that according to witnesses and security officials, a suicide bomber in a car apparently targeted a convoy carrying foreigners.
According to the officials, most victims were civilians as the incident reportedly took place during the rush hour, when city residents and government officials were making their way home.
The explosion also reportedly damaged a bus carrying children.
European Union ambassador to Afghanistan, Franz-Michael Skjold Mellbin, has condemned the car bombing on his Twitter:
The car bomb explosion is the latest incident in a series of terrorist attacks that continue to haunt Afghanistan. Earlier this month, a Taliban suicide bomber attacked a checkpoint at the international airport in Kabul, killing five people.
In early August, Kabul witnessed several terror strikes that targeted a police academy, a NATO base and an Afghan Army base, claiming the lives of at least 50 people. The Taliban has claimed responsibility for the recent wave of terror. It stepped up its summer offensive following the announcement of the death of the Taliban's leader, Mullah Omar.
READ MORE: Blasts in Afghan capital: Police academy, army compound, airport area targeted, scores dead

No one has so far claimed responsibility for this latest suicide attack. In a statement, the Taliban denied it was behind the atrocity.
You can share this story on social media: